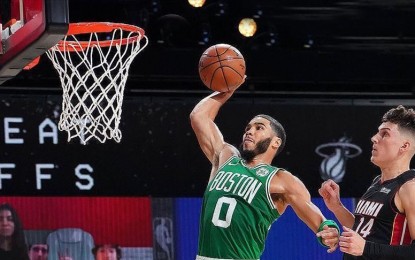 ANKARA – Boston Celtics beat Brooklyn Nets 115-114 with Jayson Tatum's buzzer-beater on a pass from Marcus Smart in the NBA Eastern Conference Playoffs Game 1 on Sunday.
Tatum dropped 31 points, while his teammates Jaylen Brown scored 23 points and Al Horford had 15 rebounds at the TD Garden in Boston.
"When he took that dribble we just kind of made eye contact. He made a great pass," Tatum said about Smart's play. "It doesn't get any better than that. A buzzer-beater in a playoff game at home."
Smart said he "was about to throw it to Al (Horford) off the dribble and I saw JT cut at the last minute."
The Nets' star Kyrie Irving's 39 points performance was not enough for his team to come out on top.
Kevin Durant, who also added 23 points for the Nets, said: "They did a good job of forcing me away, then helping in the paint. I just have to be more fundamental in my moves."
The Celtics lead the series against the Nets 1-0 in the NBA Eastern Conference Playoffs.
Other results: Milwaukee Bucks-Chicago Bulls: 93-86 and Phoenix Suns-New Orleans Pelicans: 110-99 (Anadolu)
--------