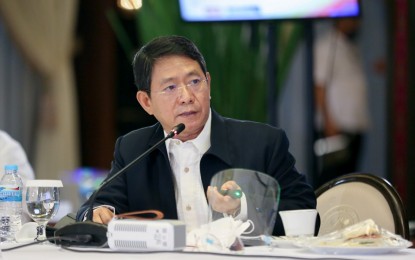 MANILA – Department of Interior and Local Government (DILG) Secretary Eduardo Año on Tuesday dismissed a report issued by the US State Department that Philippine security forces are involved in human rights violations.
"The DILG denounces the US State Department's 2021 Country Report on Human Rights Practices released recently on the alleged abuses by security forces in the Philippines as the Report is sweeping, rhetorical, and unfounded," he said.
Año said the US report is only a "mere repetition of unsubstantiated accusations against Philippine security forces that were loosely picked up from the traditional and social media", which depicts a very grim picture of the country's peace and order situation that is so far removed from the realities on the ground.
"The operations of the Philippine National Police (PNP) and the Armed Forces of the Philippines (AFP) down to the grassroots level have led to dramatic improvement of the general peace and security situation in the country since 2016. Therefore, the report belittles the hard work and sacrifice of the men and women of the PNP and the AFP who have been risking their lives to fulfill their sworn duty to fight criminality and illegal drugs," he noted.
Meanwhile, Department of National Defense (DND) Secretary Delfin Lorenzana, in a separate statement, also questioned the US State Department report.
"We question the (US) State Department's report of abuses by security forces. But since the State Department seems so sure of its facts, we challenge it to provide us with details so our Commission on Human Rights, a constitutional and independent body, can verify them, and if proven accurate, the perpetrators will be punished," he said.
Without these data, Lorenzana said these accusations are nothing but innuendos and witch hunts.
"At worst, the (US) State Department has become a gullible victim of black propaganda. And if I may add, the AFP was voted as one of the most trusted agencies of the government recently. Surely it did not earn this by abusing, torturing, and killing people," he added.
Meanwhile, PNP chief Gen. Dionardo Carlos echoed Lorenzana's calls and said the US State Department must show evidence to back up its report.
"Those are allegations. What we are telling you is what we have in the PNP. You counter that. It's just a statement. For us, we always look at how we can help develop. If the intention is good, you can present it in such a way that it would be constructive," he added.
The US State Department 2021 Country Report on Human Rights Practices claimed that it received "credible" information on the supposed human rights violations perpetrated by Philippine security forces.
The US State Department reported the alleged "numerous" human rights abuses committed "by and on behalf of the (Philippine) government and non-state actors."
The alleged "significant" human rights issues in the country include unlawful or arbitrary killings, reports of forced disappearance, torture, harsh and life-threatening prison conditions, and arbitrary detention. (With Priam F. Nepomuceno/PNA)