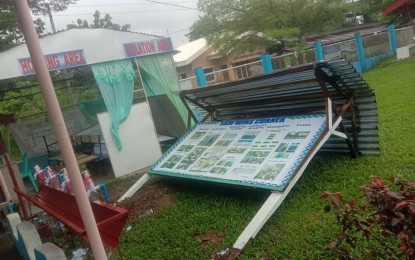 ILOILO CITY – Schools affected by Tropical Depression Agaton in Western Visayas are advised to make use of whatever available resources they have to resume classes as the regional and division offices of the Department of Education (DepEd) are coordinating with the central office to replace the destroyed school items.
DepEd Western Visayas information officer Hernani Escullar Jr., in an interview on Tuesday, said education officials are also waiting for communication from their division offices if there will be an extension on the number of school days due to the interruption of classes.
"The schools division office has to request to the central office. But meantime since we have no communication yet regarding that, meaning it's a status quo for their school calendar," the information officer added.
The last day of school year 2021-2022 is set for June 24.
Escullar said based on the April 18 initial report submitted by schools division offices to the Regional Disaster Risk Reduction Management Unit, "Agaton" has damaged 185 classrooms, 1,554 furniture, 602,725 learning references, and 214 computer equipment.
Some 31 destroyed classrooms needed to be reconstructed, Escullar said.
The damaged classrooms were under the schools' division offices of Capiz, Iloilo, and Aklan.
"The vetting of the damage is still ongoing. We are still waiting for the cost of damage caused by 'Agaton'," he added. (PNA)