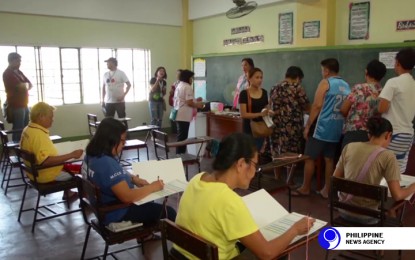 MANILA – Locating polling precincts is the most common problem every election day.
Voters flock to their usual polling places or where they voted at least in the previous election only to find their names missing from the list.
This year, the threat of Covid-19 also ranks high among election concerns.
For the May 9, 2022 national and local elections, the Commission on Elections (Comelec) tied up with the Department of Information and Communications Technology (DICT) through a memorandum of agreement (MOA) for a safe and secure process.
The DICT will provide cloud hosting of Comelec's online services that include the Registration Status Verifier, Precinct Finder, Online Voter Certification Application, and results website.
DICT is also conducting the Vulnerable Assessment and Penetration Testing on Comelec's online services to the security of the infrastructure to used for the cloud hosting.
"Cloud hosting makes applications and websites accessible using cloud resources. Unlike traditional hosting, solutions are not deployed on a single server. Instead, a network of connected virtual and physical cloud servers hosts the application or website, ensuring greater flexibility and scalability,"explained International Business Machines Corporation, an American multinational technology firm, on its website.
Under Article 13 of the Omnibus Election Code approved in December 1985, Comelec is tasked to establish all election precincts.
Each election precinct should be arranged in a way that not more than 300 voters will be accommodated and shall comprise "practicable, contiguous and compact territory".
When more than 300 voters are contained in a specific precinct, the Comelec is authorized to divide it not later than a week after the last day of registration.
However, it provides that "the polling place of all the precincts created thereby shall be located in the same building or compound where the polling place of the original precinct is located, and if this be not feasible, in a place as close as possible to the polling place of the original precinct".
The Omnibus Election Code specifies that registered voters should be included in the precincts of their residences.
Vulnerable sectors
For persons with disabilities (PWD), senior citizens, heavily pregnant, and other members of the vulnerable sector, the Comelec shall establish special polling places.
An Accessible Polling Place (APP), Emergency Accessible Polling Place (EAPP), or Satellite-Emergency Accessible Polling Place (S-EAPP) will be erected in the polling centers or places approved by the poll body.
Under Resolution No. 10761 released in February this year, Comelec said that the APP will be located on the ground floor, preferably near the entrance of the building, free of any physical barriers, and provided with necessary services, including assistive devices.
The EAPP is a room or makeshift/temporary polling place established on the first floor or at the ground of a voting center or outside of it but in close proximity thereto.
Meanwhile, the S-EAPP is an EAPP temporarily established in a building used as a home or residence of PWDs and/or the elderly, including rehabilitation centers and sheltered workshops where concerned PWDs and/or seniors citizens are living or outside thereof but in close proximity, whether administered by the government or a private institution.
The resolution states that those who may avail of the EAPP/S-EAPP are PWD and elderly voters who did not avail of APP; PWD voters who failed to update their registration records during the continuing registration; voters who became disabled, temporarily or permanently, after the continuing registration ended; and voters who are at least six months pregnant.
Comelec said PWD and elderly voters who manifested their intent to vote in APP will not be allowed to use EAPP and S-EAPP.
At least 10 PWD, senior citizens and/or heavily pregnant voters, including wheelchair-users and assistors, will be allowed inside EAPPs at any given time.
They may opt to vote in the EAPP or in the polling place where the precinct is assigned.
The poll body also clarified that voting in EAPP and S-APP shall be on a first come, first served basis.
On election day, voting in EAPP shall be from 6 a.m. to 5 p.m., while voting in S-EAPPs shall be from 6 a.m. to 2 p.m.
Hospicio de San Jose in Manila, Tahanang Walang Hagdanan in Cainta, Rizal, and National Vocational Rehabilitation Center in Quezon City have been identified as S-EAPPs.
Covid-19 preventive measures
The Covid-19 pandemic also put in place additional measures to ensure that the elections do not become a "super spreader" event.
"While it is the constitutional mandate of the Comelec to conduct honest, orderly, peaceful, and credible elections, it is also equally important for the Comelec to ensure public health on election day because this is the first time that we are going to conduct national and local elections during a pandemic," Comelec Commissioner Aimee Neri, chair of the New Normal committee, said in a recent press briefing.
One measure is the use of isolation places for voters who manifest symptoms of virus infection.
Moreover, the Comelec is planning to create a medical advisory board to provide additional support in revisiting Covid-19 related guidelines as they partner with health and medical groups that will establish assistance desks on election day.
"We are not out of the woods yet. The Comelec must be fully prepared for the prevention of Covid-19 transmission during the upcoming elections," Neri said.
With about 67.5 million registered voters, Neri said there is an urgent need to ensure that health and safety protocols will be followed and that voters would have access to medical assistance. (PNA)