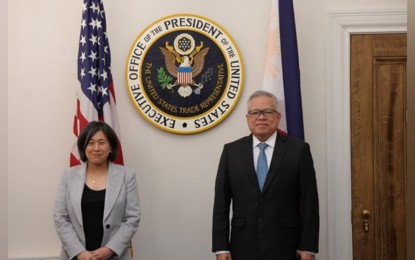 MANILA – Department of Trade and Industry (DTI) Secretary Ramon Lopez has met with United States Trade Representative (USTR) Ambassador Katherine Tai in Washington D.C. to discuss ways to further cement economic ties between the two countries.
In a statement Tuesday, the DTI said Lopez is currently leading the Philippine trade delegation to the US to discuss trade and investment issues, sectoral and industry cooperation, and the direction of Philippine-US economic ties in the future.
During the meeting with the USTR official, Lopez expressed the country's interest to be part of the US-led Indo-Pacific Economic Framework (IPEF) —an initiative of the Biden administration to boost the economic engagement of the US with Indo-Pacific countries.
"In terms of the objectives of the IPEF, advancing resilience, inclusiveness, and competitiveness are aligned with the Philippines' offensive interests," the DTI chief said.
Among the Philippines' interest in joining the IPEF include trade, promotion and development of micro, small and medium enterprises (MSMEs), digital economy, supply chain resiliency, environmental sustainability, and investment in infrastructure.
Moreover, with the passage of three key economic bills, Lopez expects that the Philippines can invite more American firms to invest in the country.
"We pursued major economic policy reforms, such as the amendments to the Retail Trade Law and the Foreign Investment Act, including the Public Service Act that essentially liberalized key sectors to allow greater foreign equity participation and attract more players and create more jobs while enhancing competition that will lead to better services and more affordable costs for the people," he added.
The Philippine trade chief cited opportunities for US-based companies eyeing to expand in the country.
These include investments in data centers and renewable energy, processing and packaging of seafood products from Alaska for re-export in other countries, promoting improved access for coal, electric vehicles, corn, and chipping potatoes.
During the meeting, Lopez said the Philippines-US Trade and Investment Framework Agreement (TIFA) has become a vital role in addressing economic issues between the two countries.
The US was the country's third largest trading partner in 2021 with total trade amounting to USD19.6 billion.
The US was also the fifth largest source of foreign investments with a total value of USD77.64 million in the previous year. (PNA)