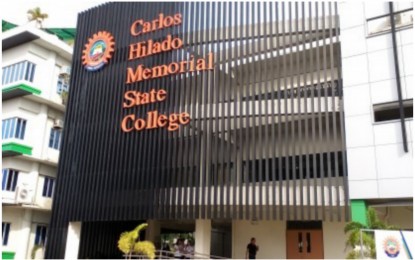 BACOLOD CITY – The Carlos Hilado Memorial State College (CHMSC) in Negros Occidental is officially a state university after the Commission on Higher Education (CHED) certified its compliance with the requirements for university status.
This city's Lone District Rep. Greg Gasataya confirmed the development on Tuesday, following the higher education institution's conversion into a university under Republic Act (RA) 11336 which was approved by Congress and signed on April 26, 2019.
Now known as CHMSU, its main campus is located in Talisay City with satellite campuses in Bacolod City and Binalbagan town.
"The conversion would mean more budget, and better opportunities for the CHMSU community," Gasataya said in a statement.
The Bacolod lawmaker authored the conversion bill together with former 3rd District Rep. Alfredo Benitez, whose jurisdiction included Talisay City, and 5th District Rep. Alejandro Mirasol, who hails from Binalbagan town.
Gasataya said being a state university will enable CHMSU to offer more academic programs, improve its capacity to accommodate more students and develop and improve academic facilities.
It can increase its academic research, refine the CHMSU corporate image, and have an overall improvement in the quality of education on all campuses, he added.
"This goes hand-in-hand with RA 10931 or the Free College Education Act, which we also co-authored in line with our advocacy to improve access to quality public education in Bacolod City," the solon said.
Benitez said as the principal author of the initial bills for conversion of then-CHMSC into university status, he is very happy it has now come into fruition.
With some 10,000 students on its four campuses, its main college in Talisay City covers northern Negros while the other in Binalbagan is situated in southern Negros.
In Bacolod, its two campuses are in Alijis and Fortune Towne.
The university offers academic programs under the College of Education, College of Industrial Technology, and School of Arts and Sciences (all in Talisay City), College of Business Management and Accountancy (Fortune Towne), Institute of Information Technology (Alijis), and College of Fisheries and Criminology (Binalbagan).
CHMSU becomes the second state university in Negros Occidental after the Central Philippines State University (CPSU) with its main campus in Kabankalan City in the south. (PNA)