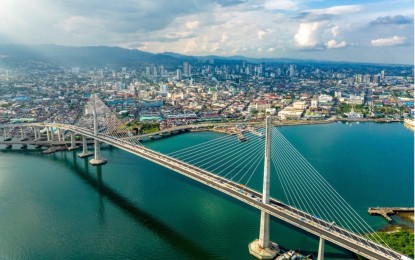 CEBU CITY – President Rodrigo Duterte will lead the opening ceremony on April 27 for the Cebu-Cordova Link Expressway (CCLEX), the engineering marvel that has become Cebu's newest icon.
The Cebu Cordova Link Expressway Corp. (CCLEC), builder of CCLEX, announced this on Wednesday, adding that motorcycles with engine displacement below 400cc will be allowed to pass the expressway by July this year.
Likewise, a resolution passed by the CCLEX Bridge Management Board (BMB) said the sidewalk for pedestrians and bikers will also be opened in July.
The opening of the 8.9-kilometer CCLEX will happen on a historic date—the 501st commemoration of the "Kadaugan sa Mactan" or Victory in Mactan, which marks the triumph of the warriors of the island under chieftain Lapulapu over the Spanish conquerors led by Portuguese explorer Ferdinand Magellan.
"We are happy and honored to have come to this point, opening the biggest infrastructure project in this part of the country," Metro Pacific Tollways Corporation (MPTC) chairman Manuel V. Pangilinan said in a statement on Wednesday.
He thanked President Duterte for giving them the honor of being part of the historic event.
"Not far from here 501 years ago, Cebuanos celebrated a victory in a pitched battle against a superior force. Today, we mark a different milestone, a modern victory not of arms but of engineering and construction that gave us such a beautiful structure that has now become an icon of Cebu," Pangilinan added.
Work on the CCLEX started on July 5, 2018, with ceremonies marking the beginning of civil works. It is MPTC's first toll road project outside Luzon.
CCLEX has a design speed of 60 to 80 kilometers per hour (kph) and a navigational clearance or height of 52 meters to allow large vessels to pass underneath the bridge.
CCLEX will use an all-electronic toll collection system. To give more time to motorists to have the RFID sticker installed on their vehicles, cash payments will be accepted in the meantime. The full electronic toll collection will be implemented by June 2022.
"Our company is happy to complete this project and contribute to the economic development of the southern Philippines," MPTC president and CEO Rodrigo Franco said.
MPTC is the largest toll road concessionaire and operator in the Philippines. Its expansion goals include establishing toll operations in the Visayas. CCLEC is a wholly owned subsidiary of MPTC.
Motorcycles allowed
"We are happy to finally announce that motorcycles below 400cc will be allowed on the CCLEX. This is to make this facility more inclusive and accessible to residents and answer a strong clamor from motorcycle users," CCLEC president and general manager Allan Alfon said.
"We encourage motorists to have the CCLEX RFID installed on their vehicles, including motorcycles, in preparation for the electronic and automated toll collection by June," he added.
The CCLEX BMB, composed of CCLEC president and the local government unit-grantors, passed a resolution last February to allow motorcycles with engine displacement below 400cc, particularly 125cc to 399cc, to also use the expressway.
The BMB said motorcycles have become the preferred mode of transportation in Cebu, with the Land Transportation Office-Central Visayas (LTO-7) recording a total of 433,771 registered motorcycles below 400cc for the entire island of Cebu in 2020. (PNA)