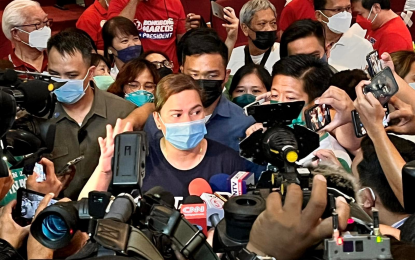 MANILA – Vice presidential candidate Sara Duterte on Wednesday condemned the election-related violence involving a shooting incident that marred presidential aspirant Leody de Guzman's meeting with members of the indigenous peoples in Quezon, Bukidnon.
Duterte said her camp has already written a letter to the Commission on Elections (Comelec) asking for investigation of the recent violent incidents related to the May 9 elections.
"Of course, lahat ng election violence and allegations of fraud, we condemn that. We already wrote the Comelec a general letter that if there is any allegation or incident, dapat lahat yun buksan nila (all these should be brought to open) with an official inquiry," she told reporters in an ambush interview.
According to reports, De Guzman was in a meeting with the Manobo-Pulangiyon tribe when shots were fired. He was reportedly nearly hit by the volley of gunfire.
De Guzman said he was not sure if he was the target.
The Comelec is investigating the Bukidnon shooting.
Comelec chairman Saidamen Pangarungan said the poll body is offering additional security detail to presidential and vice presidential candidates who would make such a request.
Meanwhile, Comelec Commissioner George Garcia also condemned the Bukidnon shooting incident wherein two persons were hurt.
"This is a cowardly act that should be condemned by peace-loving Filipinos," Garcia said. "If this is an election-related incident, count the Comelec in to use all our powers to get to the bottom of this and hold accountable the culprits and face the full force of the law." (PNA)