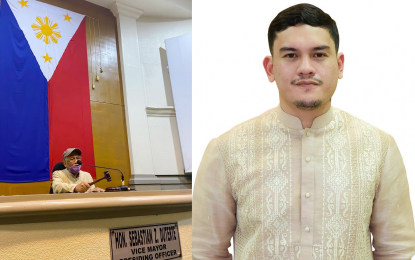 DAVAO CITY – While several netizens and City Council members furiously reacted to vice-presidential aspirant Walden Bello's stunt at the City Council, Acting City Mayor Sebastian "Baste" Duterte said Wednesday the septuagenarian might just be looking for attention on his failing campaign.
Bello posted photos of himself sitting on the vice mayor's chair at the City Council Session Hall, in what councilors said was an insult and disrespect not only to the legislative body but to all Dabawenyos.
While perched on the presiding officer's chair, Bello then mockingly banged the gavel.
Before entering the Sangguniang Panlungsod (SP) building, Bello sarcastically said he wanted to be in the session hall to receive a copy of the City Council's decision declaring him as persona non grata.
Afterward, he and his company were asked by SP security to leave the premises. According to the security, Bello and the company entered the City Council session hall without prior coordination.
Bello was in the city to file a counter-affidavit on a libel case filed by former Davao City information officer Jefry Tupas.
Disrespect
Councilor Jay Quitain, Jr., City Council majority floor leader, said Bello's purpose was to "vex, annoy, and disrespect not only the City Council as an institution but the citizens of Davao as well."
"It seems, out of desperation a resort to such tactic was needed to get people to notice him and his bid for vice presidency. Too bad it had a more negative rather than a positive effect on his campaign. This display of arrogance simply reconfirms his character and the reason for the resolution declaring him persona non grata," Quitain said in an interview Wednesday.
For the acting mayor, however, Bello's antics deserve no attention as it was meant to "gain traction and attention to their ailing campaign."
The younger Duterte said he has "more important matters to attend to," as he is taking over the duties of his sister Mayor Sara Duterte-Carpio who is on the thick of her vice-presidential campaign.
Insult
Still, several netizens condemned Bello's actions, viewing it as a provocation and an insult.
"That is an insult to the people of Davao City," Mike Abuda Joaquin commented on Bello's post.
Nenita Guadalquiver Plaras also echoed the same sentiment, saying: "The nerve! He has the guts to even touch and lift the gavel that belongs to Davao City which he shamelessly defamed."
Dean Omana tagged the acting city mayor as he demanded "justice" for what Bello did.
"This is beyond acceptable! I hope Mayor Sebastian Duterte takes action. We, Dabawenyos, will not allow humiliation from this person," Omana said in the dialect.
Fair, equal
On March 22, Bello was declared persona non grata over remarks that described the city's governance as corrupt. He also alleged the city was a trading hub of illegal drugs during a televised debate.
Despite the attacks, "Baste" noted that "everyone must be treated fairly and equally."
"Despite the Council's Resolution declaring Mr. Walden Bello as persona non grata, he was treated with a fair degree of tolerance and respect like any other transacting citizen," the acting mayor said.
"Finally, there are more important matters that the City Council needs to attend to and focus on. Things like this must only be ignored and disregarded," he added. (PNA)