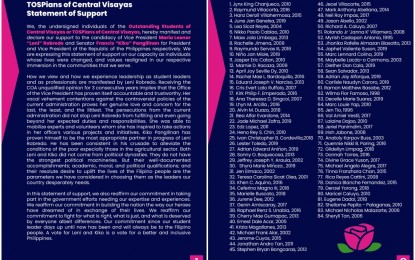 CEBU CITY – A youth group in Central Visayas cited the Office of the Vice President's highest rating from the Commission on Audit (COA) in three consecutive years as a moving factor why the younger generation supports the presidential bid of Vice President Leni Robredo.
The TOSPians or The Outstanding Students of the Philippines in Region 7 released a statement, explaining the reason for backing Robredo and her running mate, Senator Francis "Kiko" Pangilinan.
"How we view and how we experience leadership as student leaders and as professionals are manifested by Leni Robredo. Receiving the COA unqualified opinion for three consecutive years implies that the Office of the Vice President has proven itself accountable and trustworthy," the statement of the 84 TOSP awardees read.
It said the group expresses "this statement of support on our capacity as individuals whose lives were changed, and values realigned in our respective immersion in the communities that we serve".
The youth cited Robredo's "vocal vehement contentions against the controversial policies" of the government which they considered as her way of proving her "genuine love and concern for the last, the least, and the littlest".
The Vice President was able to mobilize experts and volunteers whom she has inspired to take action in her office's various projects and initiatives, it added.
Jynx King Chanjueco, a 2010 TOSP awardee, registered his name on top of the 83 other youth awardees.
The group also lauded Pangilinan's consistent crusade to alleviate the conditions of the poor, especially those in the agricultural sector.
"Both Leni and Kiko did not come from political dynasties. They do not have the strongest political machinery. But their well-documented accomplishments; academic, moral, and political qualifications; and their resolute desire to uplift the lives of the Filipino people are the parameters we have considered in choosing them as the leaders our country desperately needs," it said.
The young awardees also expressed their commitment to take part in the government efforts that need their expertise and experiences and to build "the nation the way our heroes have dreamed of in exchange for their lives".
"We reaffirm our commitment to fight for what is right, what is just, and what is deserved by everyone albeit differences. Our commitment since our student leader days up until now has been and will always be to the Filipino people," they said. (PNA)