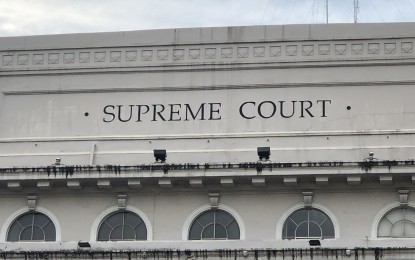 MANILA – The Supreme Court (SC) has turned down a petition filed by a Taiwanese couple questioning their indictment for estafa filed by a firm they had invested in but with which they later had a falling out.
In a 13-page decision uploaded online April 18, the SC's Second Division denied the petition filed by spouses Eric Wu and Daphny Chen and affirmed the Court of Appeals' resolution which in turn set aside the decision of the Manila Regional Trial Court (RTC Branch 112 and 114) which had quashed the criminal charges.
The Wus are Taiwan nationals residing in the Philippines under a Special Resident Retiree's Visa (SRRV) upon their investment and deposit of $90,000 with the Philippine Retirement Authority (PRA) of the Board of Investments (BOI).
In 2002, a local company, Hafti Tours Inc. (HTI) asked the couple to pull out their money from PRA and instead invest in HTI in exchange for 47,440 shares of stock.
While awaiting the approval of the PRA on the withdrawal of the couple's dollar time deposit, HTI named the Wus as two persons authorized to withdraw from the firm's bank accounts.
In Sept. 9, 2002, the PRA deposited the peso equivalent of the Wu's dollar time deposit of PHP4.6 million to HTI's deposit account.
However, the latter failed to issue the promised shares of stock to the couple. The relationship between the Wus and HTI eventually soured and the Wus issued checks to various payees from HTI's corporate bank deposit leading to litigation between them.
Seven criminal complaints filed against the Wus by HTI before the Paranaque City prosecutor was eventually dismissed. But other cases were initiated before the Pasay and Manila courts by HTI.
The couple appealed the case to the SC after the CA in 2012 remanded the cases for estafa against them back to the Manila courts for trial.
The CA said the Manila courts mistakenly referred to a duplicity of offenses when it cited a previous prosecution of the spouses in a criminal charge involving the same matters before the Paranaque court (RTC Br. 195) which was dismissed.
The CA, among other things, held that there had been no double jeopardy since the Wus were not arraigned in the Paranaque court when it was eventually dismissed.
Contrary to the RTC's findings, the CA said that while the Wus are authorized signatories of HTI's corporate checking accounts, their issuance of checks must be for authorized corporate expenditures and consequently, they may still be held liable for estafa should they be found to have expended corporate funds for their personal use despite their money investment deposited with HTI's corporate account. (PNA)