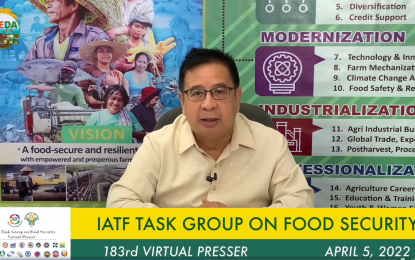 MANILA – The Department of Agriculture (DA) disclosed on Thursday the cunning strategy of technical smugglers following the calls of several congressmen to immediately address the alleged smuggling of palm oil products in the country.
During a congressional hearing on Tuesday, some lawmakers noted the country may have already lost PHP45-billion revenue from smuggling.
In a virtual press briefing, DA Undersecretary for Policy, Planning and Research Fermin Adriano said smugglers resort to misdeclaration to get away with tariffs through a follow-up conversion using the "refined, bleached, deodorized" (RBD) procedure.
"Yun ang tinatawag nating technical smuggling, kasi 'pag na-categorize mo siya (That's what we call technical smuggling because when it is categorized as) unfit for human consumption, it's only animal feeds, automatically ang kanyang (the) tariff or tax is zero, pero 'pag (but if) fit for human consumption, 15," he said.
Although the DA has been described by some lawmakers as the "mother of all agri-smuggling", Adriano insisted they have been intensifying efforts to identify culprits despite their inability, under law, to prosecute and charge smugglers.
"We regret this description. The Department of Agriculture, however, fully supports the intent of the congressional hearing, and cooperating efforts of the house committee to get into the bottom of the issue… In fact, we have been investigating the alleged smuggling of palm oil as animal feed, but it was processed as oil for human consumption as early as last year," he said.
The DA said they actually sought the assistance of the Anti-Red Tape Authority or ARTA, which conducted an investigation last January.
ARTA then found huge discrepancies between volume imports recorded by the Bureau of Animal Industry (BAI), in contrast to the actual goods entering the country reported by the Bureau of Customs (BOC).
For instance, the 2016 record shows BAI has recorded 2,421,000 kg of palm oil import volume, higher than BOC's 1,181,000 kg; while it shoots up to 55,488,000 kg for BOC, and 40,632,000 kg BAI in 2020.
"Noong (Last) 2016, if you look at the data, 2 million lang, halos (almost) 2 million lang ang ini-import, suddenly in 2020, naging (it grew to) 40 million, so there's something wrong, if you use your common sense, if you look at the market, there's a flood of cooking oil," Adriano noted.
ARTA has recommended that agencies perform their own investigation following the discrepancies discovered.
"Wala sa batas natin 'yun e, na pagkatapos noon, umalis na sa port, nakuha na, walang nag-follow-up, ano bang ginawa nila? Pero nakita natin 'yung loophole na'yun, gumawa ngayon 'yung Bureau of Animal Industry ng rules na requirements na mula ngayon kailangan na… they should submit a utilization report (That's not included in the law, that after they've left the port after it was claimed, no one's doing a follow-up on what they are doing next. But we saw that loophole, and now the BAI created rules, requiring them to submit a utilization report)," he said.
The DA, meanwhile, mentioned it has started tightening protocols through a stricter requirement for utilization reports, coordination with other agencies for smugglers, the boosting of local competitiveness, and the ongoing efforts on digitization. (PNA)