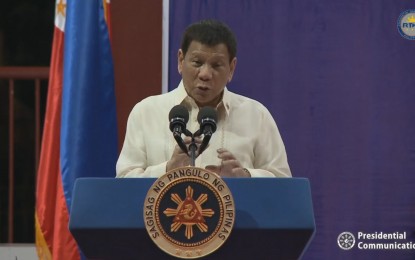 MANILA – President Rodrigo Roa Duterte on Thursday told the Philippine National Police (PNP) and the Armed Forces of the Philippines (AFP) to brace themselves for a potential spillover into Asia of the ongoing war between Russia and Ukraine.
During the graduation rites of the PNP Academy "Alab-Kalis" Class of 2022 in Silang, Cavite, Duterte said he had met with police and military officials to warn them of the possible spillover of Russia-Ukraine conflict into the Philippines.
"Nagwa-warning lang ako (I'm just giving a warning) that things might go overboard. Itong gulo na 'yun. Isang pagkakamali diyan, may problema na tayo (If this conflict gets worse, we will have a problem)," he said.
Duterte did not give further details about his recent meeting with PNP and AFP officials but said he had instructed the Philippine troops to be "ready" in the event that Russia launches a nuclear war against Ukraine.
"Kaya sinabi ko, tinawag ko 'yung PNP pati yung armed forces. Sinabi ko kapag magulo na, trabaho na ng pulis pati army iyan, the Armed Forces of the Philippines. Be ready for that (I had a meeting with PNP and armed forces. I told them that if the situation becomes chaotic, the police and the army, the Armed Forces of the Philippines, must do their job. Be ready for that)," he said.
Duterte gave the warning, as he acknowledged that there is a possibility that the Russia-Ukraine crisis might get out of hand.
He reiterated that it would be a "serious problem," in case Russia ramps up its offensive against Ukraine by using nuclear weapons.
"Kaya pag ganoong magulo (If it becomes uncontrollable), it's war. We may be dragged into or something might really happen also kasi kasama-kasama iyan eh. Inyong problema na (that's the possible effect. That will be your problem)," he said. "Kung hindi mangyayari, magpasalamat tayo sa Diyos (If it will not happen, let's thank the Lord)."
Troops commended
Duterte, nevertheless, lauded the Philippine troops for living up to their mandate to serve and protect the country, despite the recent global challenges.
"I commend you for remaining true to your mission to keep citizens safe amidst the recent struggles and uncertainties that the world is facing," he said.
Duterte on April 8 held a virtual meeting with Chinese President Xi Jinping in the wake of Russia's invasion of Ukraine and amid their concern over a possible spillover of war into Asia.
Duterte and Xi expressed hope for a peaceful settlement of conflict between Russia and Ukraine.
Around 2,072 civilians have been killed and 2,818 have sustained injuries in Ukraine amid the war, according to the United Nations' estimates.
Over 4.9 million Ukrainians have fled to other nations, with over seven million more internally displaced, the UN refugee agency said. (PNA)