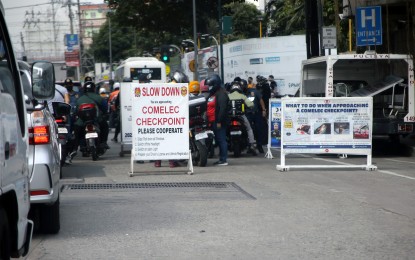 MANILA – President Rodrigo R. Duterte on Thursday reminded political candidates to do their part in ensuring a "clean and honest" May 9 elections, noting that failing to do so would be an "insult" to the Filipino people.
"Kaya ang sinabi ko sa lahat ng politiko (That's why I'm telling all politicians), give us a clean and honest elections…Insulto sa atin 'yan, sa inyo (It would be an insult to us, to you)," he said in a speech during the 43rd Commencement Exercises of the Philippine National Police Academy (PNPA) "Alab-Kalis" Class of 2022 in Silang, Cavite.
Duterte earlier said it would be his "highest honor" to turn over the reins of his power knowing that he did his best to serve the Filipino nation.
The Philippines will hold its national and local elections on May 9 -- the country's first national elections during the Covid-19 pandemic.
Duterte again said he will invoke the "Alunan doctrine", which limits the number of armed guards of politicians in the country beset by political violence.
The Alunan doctrine was introduced by then Interior Secretary Rafael Alunan III, who served during the presidency of Fidel Ramos from 1992 to 1998.
"Yung mga politiko, ang dapat lang sa kanila according to the Alunan doctrine na (Politicians should adhere to the Alunan doctrine which states that) more than two armed is already a private army," he added.
He also advised PNPA cadets who could be assigned as bodyguards of candidates to ensure that the Alunan doctrine is strictly followed.
"If you happen to be assigned as a security, sabihin mo lang doon sa amo mo, 'Sir, ito ang limitasyon (tell your boss 'Sir, this is my limitation)…I cannot be a part of the politics here and I am only duty-bound what is the mandate of the law'," he said.
Duterte earlier warned that candidates who have more than two bodyguards would be arrested and prosecuted by the government.
Interior Secretary Eduardo Año said the Department of the Interior and Local Government recorded a total of 2,536 gun ban violations from Jan. 9 to April 18 that resulted in the arrest of 2,653 people.
He said authorities seized 974 deadly weapons, 2,013 firearms, and more than 10,000 rounds of ammunition.
At least 5,809 firearms have been surrendered as of April 18, he added.
The nationwide gun ban took effect on Jan. 9 and will end on June 8. (PNA)