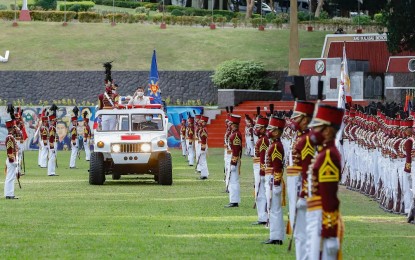 MANILA – President Rodrigo Duterte on Thursday urged the graduates of the Philippine National Police Academy (PNPA) Class 2022 to maintain their professionalism by heeding the call of duty without acting beyond their legal parameters.
"You must maintain professionalism for you will soon take over its leadership and will be the role models of future Filipino law enforcers," Duterte said during the graduation rites of the PNPA "Alab-Kalis" Class of 2022 in Silang, Cavite.
Duterte made the call, as he extolled the cops for being at the forefront in the fight against illegal drugs, criminality, and terrorism under his leadership.
He expressed hope that the graduates would sustain the "same level of courage, determination and passion" as they join the Philippine National Police (PNP), the Bureau of Fire and Protection (BFP), and the Bureau of Jail Management and Penology (BJMP).
He also told them to avoid acting beyond their legal parameters, reminding them that their mandate is to serve and protect the Filipino people.
"Although our war with lawless forces is far from over, I am proud to say that we have made great strides in improving the crime situation in the country," Duterte said. "Always be reminded that the core of your profession is and will always be the welfare of our people."
Legal assistance
Duterte, a lawyer, said he is willing to provide legal assistance to cops even after his term ends in 2022, so long as they are performing their duties within the bounds of the law.
He reiterated his "love" for the policemen who help maintain law and order in the country under his watch.
"Maski retired na ako (Even if I retire already), if you want my help, lalo na 'yung masabit kayo in a legitimate operation, nandiyan ako (especially those who will face charges after conducting a legitimate operation, I will be here for you). And maybe I will appear in court for you," Duterte said.
Duterte told the graduates to refrain from "[going] out of [their] legal parameters."
"Kung ano lang ang tama, 'yun ang sundin niyo (I said do what is right)," he said. "Do not go out of your legal parameters, 'yung tama lang na trabaho ng pulis pati alam niya ang obligasyon sa taumbayan (just do your job and fulfill your obligation to our fellow countrymen)."
Duterte, after his keynote speech, also issued an order giving pardon to PNPA cadets with outstanding punishments and demerits.
House and lot for class valedictorian
Duterte also announced that the PNPA Alab-Kalis Class' graduating valedictorian, Cadet Ernie Alarba Padernilla from Passi City, Iloilo, will receive house and lot from the government.
"Your valedictorian, I am talking on behalf [of the government], may house and lot 'yan (he will receive a house and lot)," he said.
Padernilla also received the Presidential Kampilan, Chief PNP Kapilan, Best in Forensic Science Award, and the Best in Thesis Award.
The PNPA Alab-Kalis Class has a total of 229 cadets.
Around 206 graduating cadets will join the PNP, 12 will go to the BJMP, and 11 will be with the BJMP. (PNA)