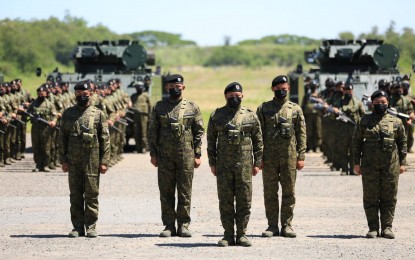 MANILA – The Philippine Army reactivated Thursday its Armor Division's 1st Tank Battalion, further boosting its capability to deal with current and emerging security threats.
"Looking at the future operational landscape, the PA has reactivated the 1st Tank Battalion to provide our infantry and mechanized infantry forces with advanced firepower capability and enhance the standards of protection, especially in conducting contingency missions and combined arms and joint operations in the country," Army chief Lt. Gen. Romeo Brawner Jr. said in a statement Thursday.
The reactivation of the 1st Tank Battalion at Camp O'Donnell in Capas, Tarlac will bolster the armor units' operational capability in ground operations, he added.
PA spokesperson Col. Xerxes Trinidad said the 1st Tank Battalion, seen to play a key role in the defense of the country's land domain, would be composed of newly acquired and upcoming assets such as 18 Sabrah ASCOD light tanks, 10 Pandur 8x8 wheeled light tanks, a command vehicle, a recovery vehicle, and a tank gunnery simulator acquired under the Armed Forces of the Philippines Revised Modernization program's Horizon 2.
He earlier said the Sabrah ASCOD light tanks are expected to be delivered within this year while the Pandur 8x8 wheeled tanks are set for delivery next year.
The contract for these light tanks is worth around PHP9.4 billion and was acquired through government-to-government mode.
Following the activation of the 1st Tank Battalion, the 8th Cavalry Company was deactivated to provide the nucleus of the new unit which will be commanded by Lt. Col. Don Frivaldo.
The deactivated 8th Cavalry Company was formerly attached to the 103rd Infantry Brigade, 1st Infantry Division whose area of operations covers Lanao del Sur and parts of Lanao Del Norte.
The 8th Cavalry Company played a vital role in the military's victory against ISIS-inspired terrorists that attacked Marawi City in 2017.
The 1st Tank Battalion traces its roots to the organization of the 1st Cavalry Regiment under the PA's 1st Infantry Division in 1935.
The Philippine Army officially activated its first tank battalion in September 1958 with assets that included US M-4 Sherman tanks.
The original tank battalion was deactivated three years later due to the high cost of maintenance. (PNA)