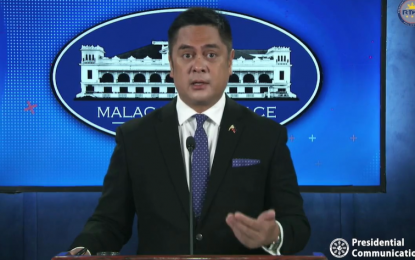 MANILA – The International Criminal Court (ICC) has no authority to investigate President Rodrigo Duterte's anti-narcotics drive, Malacañang insisted Friday.
"We reiterate our position that the International Criminal Court (ICC) has no jurisdiction to probe our campaign against illegal drugs," acting Presidential Spokesperson and Communications Secretary Martin Andanar said in a press statement.
Andanar said the ICC cannot probe Duterte's drug war since the Philippines' justice system is still working.
"This is not the case in the Philippines where our criminal justice system remains capable and functional and our legal institutions continue to be independent and impartial," he said.
Andanar's statement came after presidential aspirant Leody de Guzman said he would let the ICC investigate Duterte's campaign against rampant narcotics trade, if he wins the May 9, 2022 presidential race.
Andanar said the ICC may only intervene, if the Philippine courts refuse to launch an investigation into Duterte's war on illegal drugs.
"The ICC is the court of last resort utilized when a State Party is unwilling to investigate and prosecute those who violate laws," he said.
The ICC in November 2021 suspended its investigation into the alleged crimes against humanity attributed to Duterte's drug war to assess "the scope and effect of the deferral request" of the Philippine government.
A month before the suspension of the probe, ICC prosecutor Karim Khan ensured that the investigation into Duterte's anti-narcotics campaign would "uncover the truth and aim to ensure accountability."
In March 2018, Duterte ordered the Philippines' revocation of the Rome Statute that created the ICC after former prosecutor Fatou Bensouda continued with the preliminary examination into his drug in February of the same year.
The Philippines formally ended its ties with the ICC on March 17, 2019, or exactly a year after the scrapping of the Rome Statute.
Despite the Philippines' withdrawal, Khan had said the ICC "retains jurisdiction" with respect to alleged crimes that happened in the country while it was a state party from Nov. 1, 2011, to March 16, 2019.
The ICC's investigation covers the conduct of the drug war under Duterte's watch, as well as alleged killings in Davao City between 2011 and 2016 when the President was still the mayor.
In March this year, Duterte directed the Philippine Drug Enforcement Agency to furnish human rights groups with a copy of the report on the drug war to enlighten them about the gravity of the drug problem in the country. (PNA)