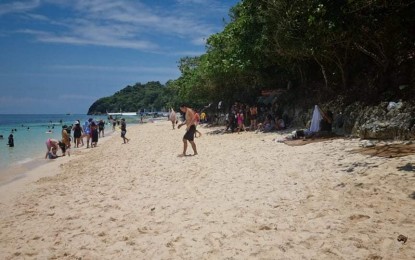 ILOILO CITY – The Department of Tourism (DOT) urged Boracay local government to comply with its allowed 19,215 visitors daily while its carrying capacity is being reviewed by the Department of Environment and Natural Resources (DENR).
"DENR is currently doing a review on the carrying capacity study in 2018. They are expecting that the study will be released by June 15," said DOT Regional Director Cristine Mansinares in an interview on Friday.
Tourism Secretary Bernadette Romulo-Puyat this week called on the local government unit (LGU) of Malay for exceeding the daily threshold on the island during the Holy Week.
The number of tourists staying on the island was recorded at 21, 252 on April 14 and 22, 519 on the next day.
The figures differ from the data of the Malay Tourism Office which showed from April 11 to 17 (Holy Week), the arrivals reached 44,981; the highest was on Maundy Thursday with 12,266 guests.
The Malay data, however, referred to the new arrivals and did not include the guests already staying on the island, who were still part of the carrying capacity, according to Mansinares.
DOT, meantime, has yet to receive a copy of the reply of the local government of Malay town on the violation since the letter of Puyat was addressed to the DENR and was copy furnished to the LGU.
Mansinares added that the DENR, DOT, and the Department of the Interior and Local Government (DILG) are already discussing possible measures to address the problem.
"In terms of details as to the next steps, we will rely on our respective secretaries through the Boracay Inter-Agency Rehabilitation Management Group," she added.
The regional director said the local government is also conscious of their upcoming events to make sure that these will not trigger the surge of tourists.
From April 26 to May 1, the island will be celebrating "Love Boracay" formerly "LaBoracay" marking the start of the closure of the island for rehabilitation as ordered by President Rodrigo Duterte in 2018. (PNA)