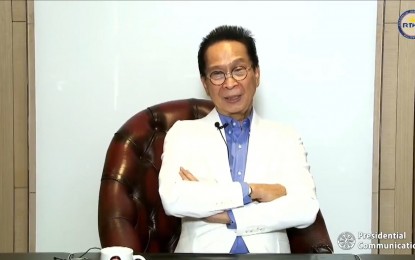 MANILA – Former chief presidential legal counsel Salvador Panelo has sought the prohibition of pre-election surveys during the campaign period.
Expressing dismay over the apparent "mind-conditioning" effect of the results of pre-election surveys, Panelo said if he gets elected to the Senate, he would push for a measure that would stop this "bad method".
"Kapag ako ang naging senador, palagay ko, iba-ban ko na ang survey na iyan kasi nga, unang-una, 'pag naglagay ka ng survey diyan, it creates the impression na forever ganiyan na iyan (If I become senator, perhaps, I will ban such surveys because if you conduct a survey, it creates an impression that lasts forever). It creates bad method," Panelo said in an interview with popular TV host Boy Abunda based on his Facebook post on Friday.
Based on Abunda's Youtube Channel, the video of the interview was released on April 20.
Panelo also cast doubt on the validity of the surveys because of the questionable identities of the respondents.
He made the statement noting that no one from his family or friends had been interviewed in the past pre-election polls.
"Sino ba ang sinu-survey ng mga iyan? Parang lahat naman yata ng tinanong ko, hindi naman sila nasu-survey. Exactly, sino nga ba? So, huwag na lang (Who are being surveyed? Everyone I know has not been surveyed. Who were exactly asked? So, it's better to stop the surveys). Pabayaan na lang natin na people ang mag-decide (Let the people decide) on the basis of what they hear on the record of the candidates," Panelo said.
He also responded to Abunda's question about the importance of joining debates, saying it is more important to hold campaign rallies than participate in formal debates.
Meeting people in campaign sorties is an eye-opener because candidates would be given the chance to personally know public concerns, Panelo said.
"Mas mahalaga sa akin yung pumupunta yung tao sa taumbayan (It's more important for me to meet the people)," he said. "Mas maganda pa 'yun. Malalaman mong concerns nila (That's better because you will know their concerns) and they will know how you will respond to them."
PH politics becoming 'personal'
Panelo also agreed that election hopefuls are turning "personal" and "emotional" as they resort to mudslinging and even order the killing of their opponents.
He lamented that cheating is still prevalent during elections.
"Iyan ang nagiging problema, nagiging personal, nagiging emotional ang mga tao kasi nga (That's the problem, people are becoming personal and emotional because) we have not developed political maturity that developed countries have," Panelo said.
Quizzed if he is in favor of banning aspirants facing charges from seeking elective posts, Panelo said he is opposed to the idea because "that will go against the constitutional presumption of innocence."
He also expressed objection to the proposal to ban the substitution of electoral aspirants who voluntarily withdraw their candidacies ahead of elections.
"Merong mga pagkakataon na halimbawa biglang namatay o merong personal reason na kailangan siyang mag-withdraw (There are instances wherein the candidate dies or has personal reasons to withdraw). It will be unfair to deprive a political party of representation just because yung kandidato mo, umalis (the candidate withdrew)," he said.
Panelo, meanwhile, said it is about time to reconsider the scrapping of the party-list system.
"Kontra ako sa party-list (I am against the existence of party-lists)," he said. "Ang dami-daming (There are so many) party-list representing certain sectors pero actually, hindi naman totoo (but that's just a misrepresentation). At saka isa pa, doble lang yun. Bakit ka pa merong (One more thing, there are already) members of Congress representing districts." (PNA)