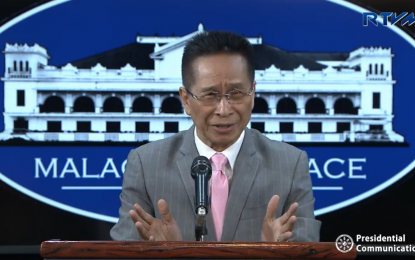 MANILA – Former chief presidential legal counsel and now senatorial aspirant Salvador Panelo has expressed support to legalize same-sex union, as well as divorce, in the country.
"I said I will support efforts to legalize same-sex marriages or unions because all persons should have equal rights and protections under the law, regardless of gender, gender identity, or sexual orientation," he said in a statement posted on his official Facebook page on Friday.
Panelo said legalizing same-sex unions does not require religious institutions to recognize or perform marriage ceremonies for couples.
He likewise clarified that the religious groups' rights and beliefs will remain respected by the State, despite the possibility of same-sex union being made legal.
The proposal will merely give members of the LGBTQIA (Lesbian, Gay, Bisexual, Transgender, Queer or Questioning, Intersex, Asexual or Ally) community an "equal and fair" treatment.
"The measure will just obligate the State to recognize the right of members of the LGBTQIA+ community to choose a spouse or life partner and to enjoy the same rights, and be subject to the same obligations, of married spouses under the law, including property relations, adoption, support, taxes, pension, and others. This is what equality and fairness demands," Panelo said.
In his taped interview aired on Boy Abunda's Youtube Channel on April 20, Panelo said he is also in favor of divorce, noting that it is also similar to annulment which is legal in the Philippines.
Panelo said unhappy spouses should be given the option to file for divorce since "kung pagpipilitan mo na hindi naman puwede, nag-aaway, naaapektuhan yung mga bata, paghiwalayin mo na lang (It's better to divorce rather than force yourself to stay. It will only have an impact on children)".
"Pangalawa, may annulment tayo. Parang divorce na rin 'yun. Iba lang ang grounds (Second, we have an annulment. It's the same with divorce. They just have different grounds). But it's the same," he said.
Meantime, Panelo also expressed support for the legalization of marijuana for medical use, so long as it is regulated and will be based on scientific data.
He added that he also favors the use of nuclear energy to meet the country's growing energy demand.
Panelo said he also backed the country's joint exploration with China in the West Philippine Sea and the continued operations of the Philippine Offshore Gaming Operators (POGOs) to raise the government's funds. (PNA)