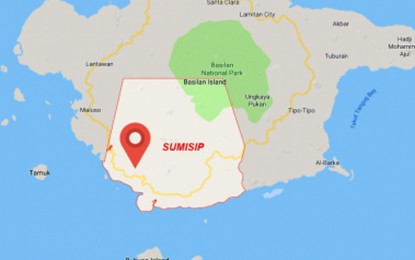 ISABELA CITY, Basilan – The police have deployed a quick reaction force to prevent the escalation of violence in the municipality of Sumisip, this province, following a shooting incident on Friday night.
Col. Pedro Martirez Jr., provincial police director, said additional cops have been dispatched after an imam was killed while four others were wounded in a shooting incident at around 7:45 p.m. Friday in Barangay Sapa Bulak, Sumisip.
An imam leads Muslim worshippers in prayer at a mosque.
"We have deployed the quick reaction platoon (forces) to prevent similar incidents and escalation of violence," Martirez said in an interview on Saturday.
Twenty-year-old imam, Mutilan Como Ajanab, expired while at a hospital here.
Wounded and hospitalized were Rashid Hajibain Suraman, 48; Abdulmalik Suraman Jumlatal, 34; Harisa Hajibain Hadjail, 15; and, Hafidz Suraman Jumlatal, 23.
The police report stated the victims were resting in front of their house after they arrived home from a nearby mosque for their Tarawih prayer.
The Tarawih is a night Ramadan prayer performed after Iftar, the evening meal with which Muslims end their daily Ramadan fast at sunset.
A rido (family feud) is the alleged cause of the incident but Martirez said they have yet to ascertain it.
"I have ordered the chief of police there to conduct an in-depth probe to determine the real cause of the incident," Martirez said.
He said the Sumisip town police are coordinating with their military counterparts to ensure the maintenance of law and order in the municipality. (PNA)