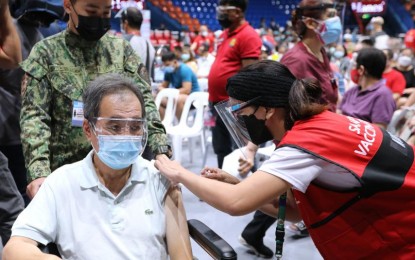 MANILA – The National Vaccination Operations Center (NVOC) is eyeing the administration of second booster shots to some 7,000 up to 13,000 immunocompromised adults on the first day of the nationwide rollout on Monday, Department of Health (DOH) Undersecretary Myrna Cabotaje said Saturday.
Cabotaje, also the NVOC chairperson, said there are about 600,000 fully vaccinated immunocompromised adults who already have first booster shots or the third dose.
The initial phase for the second booster shot rollout will cover eligible adults with comorbidities in an immunocompromised state such as cancer patients and those taking immunosuppressive drugs, people living with Acquired Immunodeficiency Syndrome/Human Immunodeficiency Virus, organ transplant recipients, those undergoing chronic dialysis, and bedridden patients or with poor prognosis.
They must have received the first booster shot at least three months ago.
Eligible vaccinees should coordinate with their local government units or health facilities for appointments.
Cabotaje noted a significant decline in the country's vaccination coverage.
"During October to November, we had around 1 to 1.5 million a day. Now we only have around 200,000 a day on the average. So we can say about 250,000 until the end of April," she said.
Cabotaje reported some 67.4 million Filipinos are now fully vaccinated, and they are aiming to increase the number to up to 69 million. (PNA)