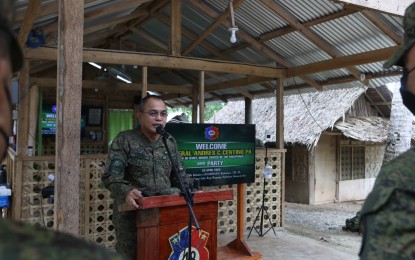 MANILA – Armed Forces of the Philippines (AFP) chief-of-staff, Gen. Andres Centino, lauded on Sunday the 48th Infantry Battalion in Davao de Oro for their efforts in defeating communist terrorist groups (CTGs) operating in the province.
"I am pleased to note that we are successfully clearing your area from the insurgents. I express my commendation to you for being able to contribute to the mission of the AFP to ensure that we have secured communities all over the country," Centino said in a statement.
He visited for the first time the headquarters of the 48th Infantry Battalion in Pantukan, Davao de Oro on April 23.
The height of the insurgency in the unit's area of operations has been declining due to the military's persistent and focused operations.
Centino urged the troops to maintain the momentum against the communist terrorist groups.
"We shall continue to go after the remnants of the communist terrorist groups and make them totally leave this place and give up the fight against the government," he said.
Citing the AFP getting the highest trust and approval rating among government agencies in the survey by Publicus Asia, Centino urged the troops to remain professional.
"That can be attributed to our increasing state of discipline and equipment. We must repay this by providing our people with better professional service," the AFP chief said. (PNA)