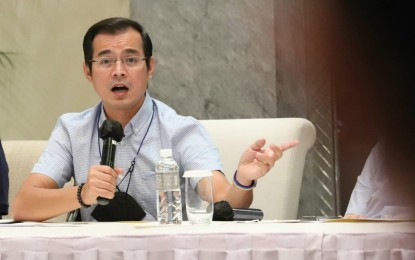 MANILA – Aksyon Demokratiko standard-bearer Francisco "Isko Moreno" Domagoso is unfazed by the large turnout in the grand rallies of his election rivals, expressing confidence that the so-called "silent majority" will bring him victory in the May 9 presidential elections.
In a statement Sunday, Domagoso said the "lean and mean" rallies held in previous weeks were attended by "real supporters" comprised of the "silent majority" who he believed would be the ultimate game-changer in his bid.
Domagoso said his preferred mode of "retail" style of campaigning in town halls and out-of-the-way places may be tedious, but fosters intimacy and unity with the public than the large but staged rallies.
"Kasi ayoko ng 'motor-paid.' Magastos ang 'motor-paid. 'Di ba, I mean, bakit ko naman babaliwin ang sarili ko ng 40,000 na tao pero binayaran ko naman sila ng tig-lilimang daan just to rah-rah (I don't like those motor-paid. Motor-paids are expensive. I mean why would I drive myself crazy trying to get 40,000 people and pay them PHP500 each just to rah-rah)," Domagoso earlier said.
Team Isko chief campaign strategist Lito Banayo said the ground reception for Moreno is far different from what poll surveys say, and quite different from what his rivals might imply through their "very large rallies."
He cited the campaign in Rizal on April 21 where Domagoso, his running mate Dr. Willie Ong, and Aksyon Demokratiko Senate bets were welcomed by residents.
"These were spontaneous crowd(s) who were excited to see the charismatic and very accommodating Mayor Isko. It's all organic, no hakot crowd," Banayo said.
In Tagbilaran City, tens of thousands of Boholanos came out in force Wednesday evening to show their support for the Aksyon Demokratiko standard-bearer in a grand concert-rally at the Old Tagbilaran City Airport.
The crowd, which was estimated to reach more than 40,000 at its peak and composed mostly of youth supporters and ordinary people, packed the venue. (PNA)