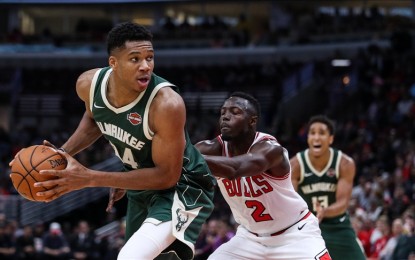 ANKARA – The Milwaukee Bucks took a 3-1 lead against the Chicago Bulls in the 2022 NBA playoffs' Eastern Conference first round after a 119-95 win on Sunday.
The Bucks' Greek superstar Giannis Antetokounmpo scored 32 points, took 17 rebounds and produced seven assists to be the key player for his team in Game 4 at United Center in Chicago.
Milwaukee has a big advantage to eliminate the Bulls as the NBA playoffs are played in a best-of-seven format.
The Bucks' shooting guard Grayson Allen scored 27 points, and his teammate Jrue Holiday added 26 points.
The Bulls were led by Zach LaVine as the 27-year-old tallied 24 points and 13 assists.
DeMar DeRozan scored 23 points for the Bulls.
The Bulls' Patrick Williams added 20 points and grabbed 10 rebounds.
As defending NBA champions, the Bucks will host the Bulls in Game 5 at Fiserv Forum on Wednesday. The Bulls should win this game to keep their hopes alive.
If Milwaukee wins it, they will advance to the Eastern Conference semifinals.
Celtics on 3-0 lead
The Boston Celtics beat the Brooklyn Nets 109-103 on the road Saturday, which meant a big step for the Celtics towards the next phase.
Boston Celtics are on a 3-0 lead, so they will need a win to sweep the Nets in the first round.
On Saturday, Celtics star Jayson Tatum was on fire to score 39 points, a big contribution to the victory.
Game 4 will be played at the Barclays Center in Brooklyn on Monday.
In other games, Toronto Raptors stayed in contention, beating Philadelphia 76ers, 110-102. Philadelphia is leading the series 3-1.
Meanwhile, Utah Jazz escaped a 100-99 win against Dallas Mavericks to tie the series at 2-2.
Minnesota Timberwolves also tied their own playoff series with Memphis Grizzles via a 119-118 victory. (Anadolu)