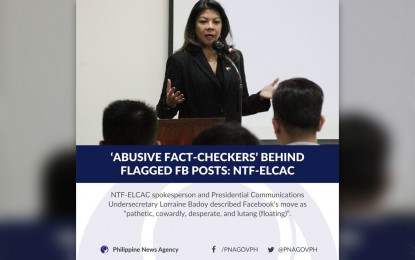 MANILA – Despite default apologies because they "got it wrong", social media giant Facebook (Meta) continued to bar netizens from posting and sharing select stories from the Philippine News Agency (PNA) website for alleged violations against "community standards".
Near midnight Saturday, Facebook started flagging multiple posts and removed some previously shared contents of both state-run PNA and Radyo Pilipinas.
On Sunday afternoon, individual account-sharers of PNA articles, including PNA reporters and editors, were notified that their flagged posts have been restored while links from the website were allowed for sharing anew.
However, the same issues recurred on Monday and until posting time, have not been solved.
Facebook told the PNA that it is a technical issue.
One particular post that Facebook flagged was the National Task Force to End Local Communist Armed Conflict (NTF-ELCAC) reaction on the issue.
On April 24, 2022, at 9:32 p.m., PNA's original post of the story titled "Abusive fact-checkers behind flagged Facebook posts: NTF-ELCAC," which garnered over 3,500 "likes" and thousands of shares and comments that mostly slammed Facebook was removed for "purportedly violating its community standards on cybersecurity".
The story of the NTF-ELAC reaction (https://www.pna.gov.ph/articles/1172815) on the website was not available for sharing on Facebook because it was tagged as "spam" based on community guidelines.
Here are some screenshots of netizens' comments on Facebook's flagging: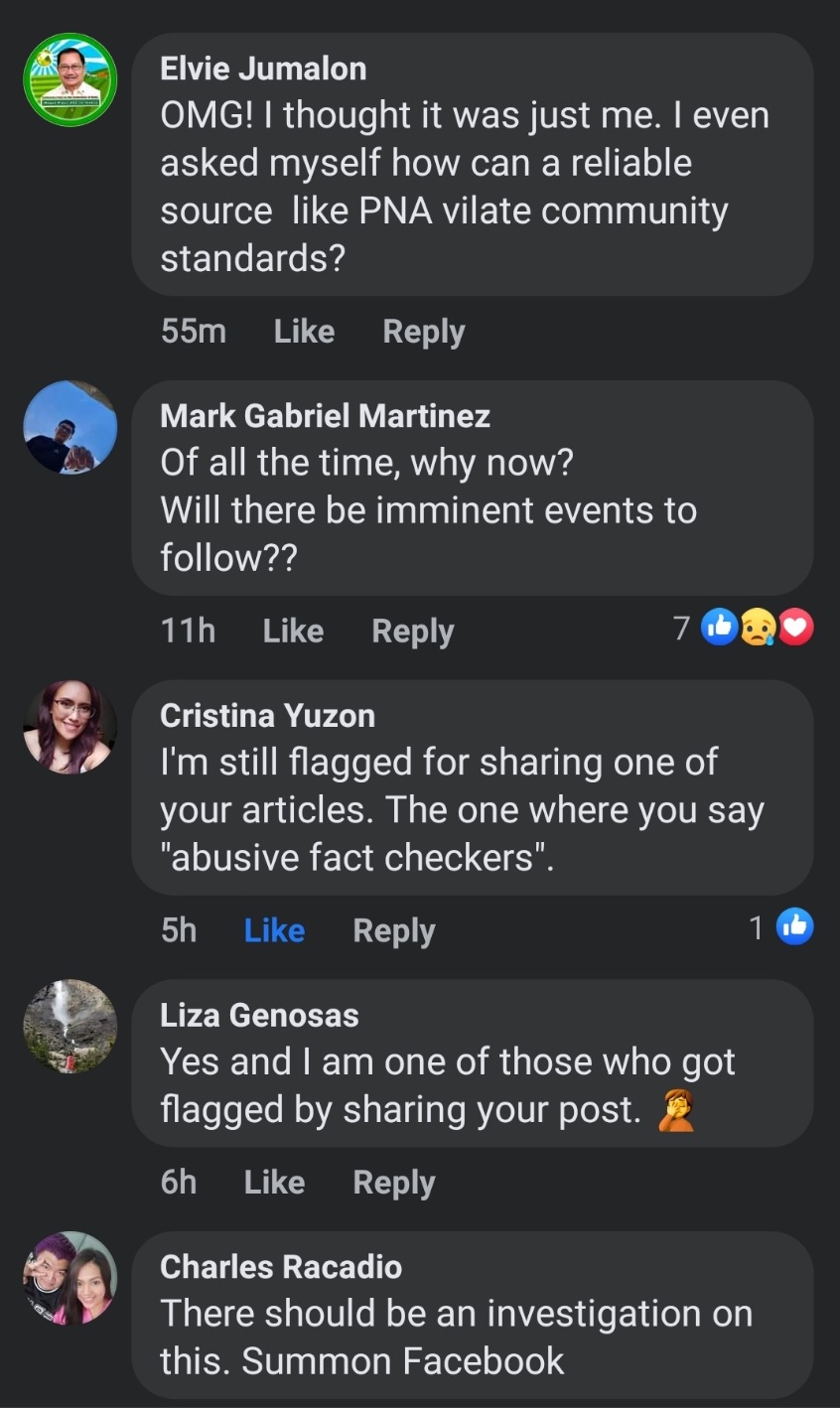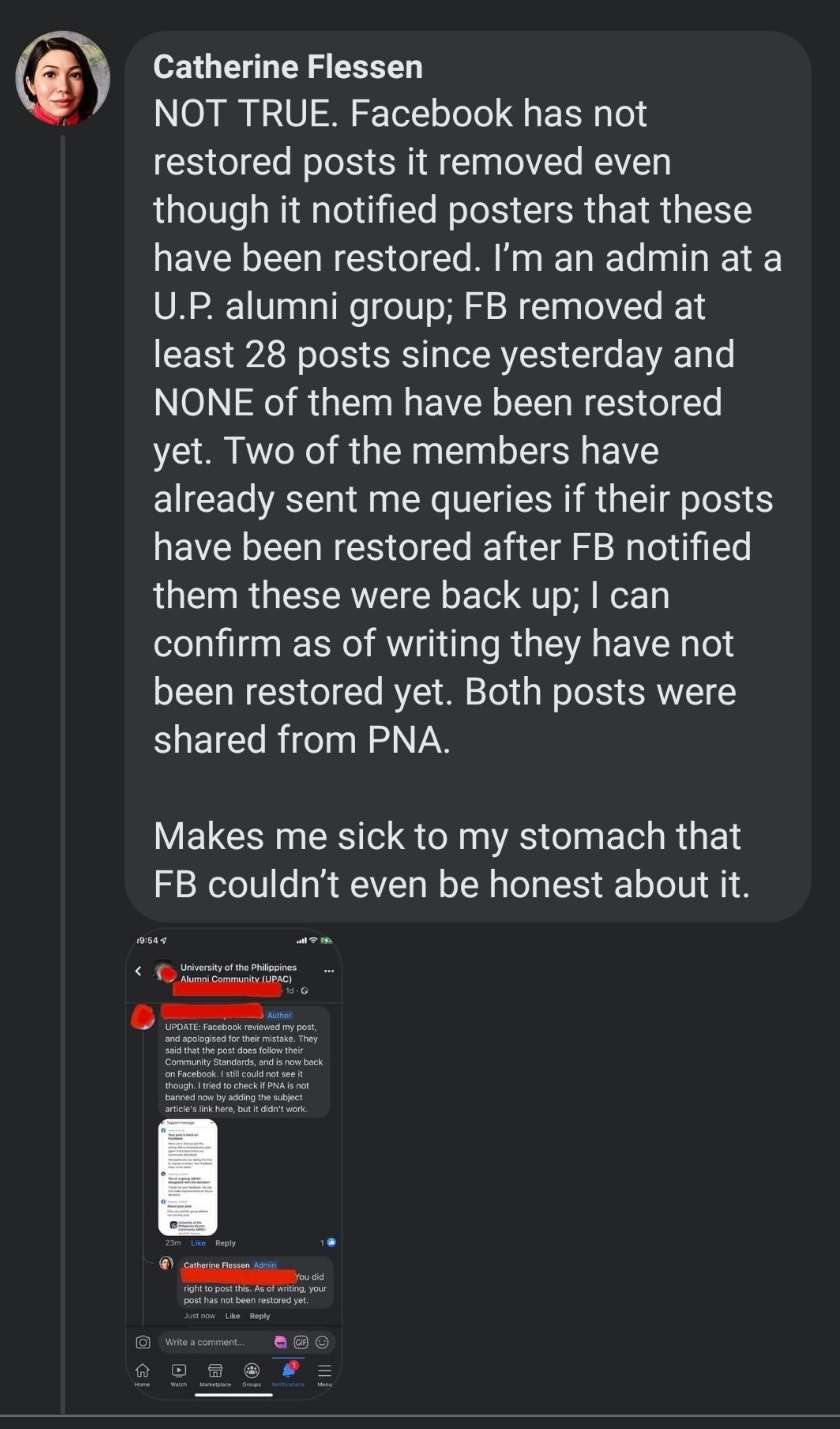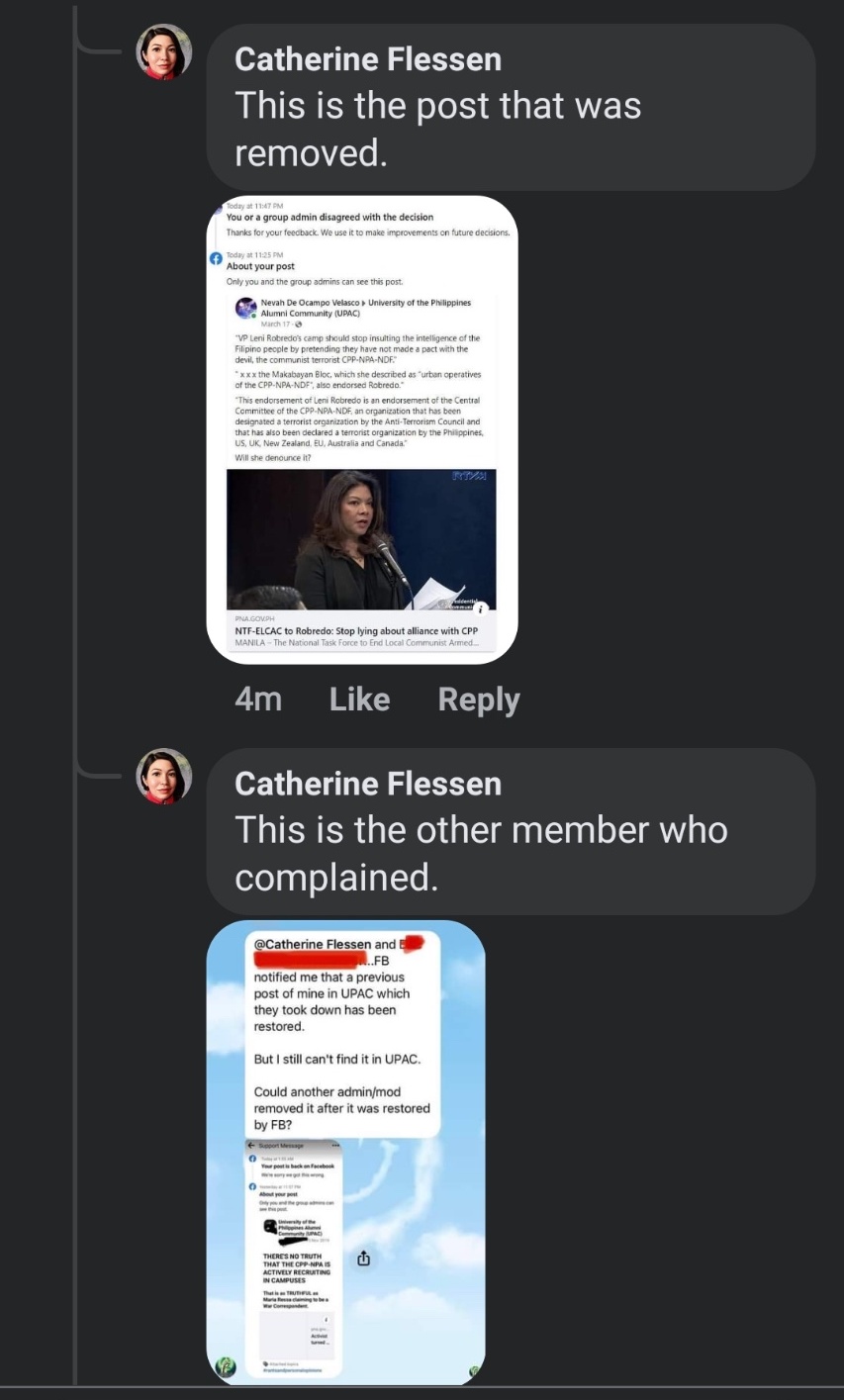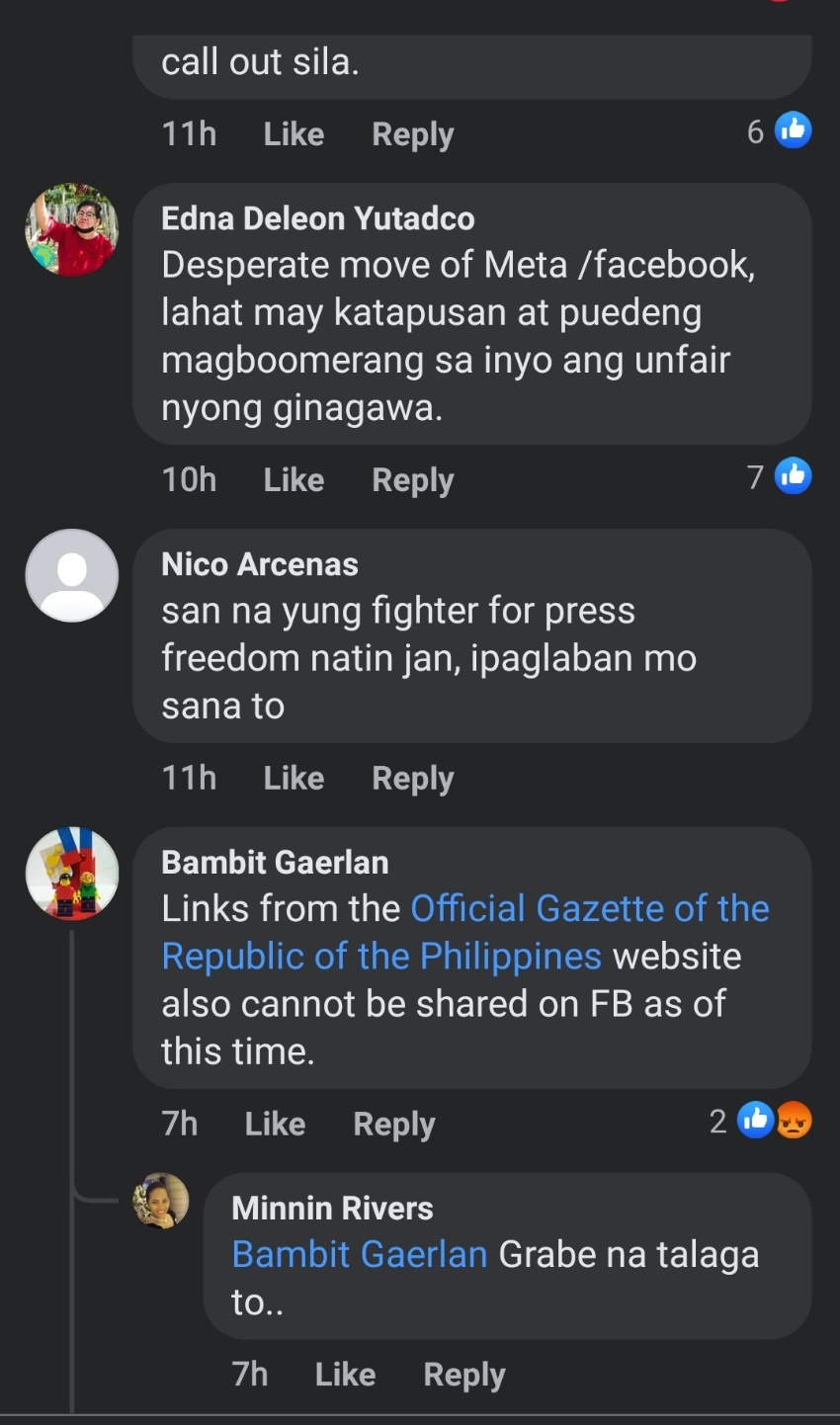 Facebook's policies
According to its policy on spam, Facebook "does not allow content that is designed to deceive, or that attempts to mislead users, to increase viewership".
"This content creates a negative user experience, detracts from people's ability to engage authentically in online communities, and can threaten the security, stability, and usability of our services. We also aim to prevent people from abusing our platform, products, or features to artificially increase viewership or distribute content en masse for commercial gain," it stated.
Meanwhile, Facebook's Policy Rationale on Cybersecurity said the attempts to gather or access "sensitive and unauthorized" information will count as violations.
"We recognize that the safety of our users includes the security of their personal information, accounts, profiles, and other Facebook entities they may manage, as well as our products and services more broadly. Attempts to gather sensitive personal information or engage in unauthorized access by deceptive or invasive methods are harmful to the authentic, open, and safe atmosphere that we want to foster. Therefore, we do not allow attempts to gather sensitive user information or engage in unauthorized access through the abuse of our platform, products, or services," it said.
Facebook's Transparency Center also lists the following online activities that would be considered in violation of its cybersecurity policies.
• Gaining access to accounts, profiles Facebook, Inc. entities, or user data other than your own through deceptive means or without explicit permission from the account, profile, or entity owner.
• Encouraging or deceiving users to download or run files or programs that will compromise a user's online or data security, including through malicious software or websites. Such files and programs will be deemed malicious software or "malware" if they harm or gain unauthorized access to a computer, device, or network.
• Attempting to obtain, acquire or request another user's login credentials or other sensitive information, whether explicitly or through deceptive means such as phishing (e.g. fake surveys designed to capture log-in info or links to fake login pages or impostor websites) or the use of malicious software or websites.
• Publicly sharing your own or others' login information, either on a platform or through a third-party service.
Facebook's parent company, Meta, has yet to provide an explanation on how the flagged posts violated community standards, specifically on cybersecurity. (PNA)