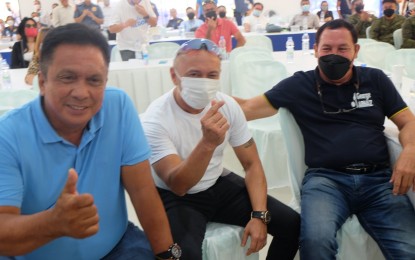 DUMAGUETE CITY – In an unprecedented move, political rivals in Negros Oriental on Monday showed up for a peace covenant signing that elated law enforcement, civilian, and church officials.
Known publicly as being always at odds with each other and sometimes trading barbs through "blind items" on social media and other platforms, re-electionists Gov. Roel Degamo and House Rep. Arnolfo Teves Jr. of the 3rd congressional district even obliged to a photo opportunity together.
Attendees in the peace covenant signing that preceded the final Regional Joint Peace Security Control Center (RJPSCC meeting) at the Negros Oriental Provincial Police headquarters at Barangay Agan-an, Sibulan town cheered and applauded when the two shook hands and talked with each other.
"Awhile back, when I saw the two of them shake hands, I noticed at the back Atty. (Lionel Marco) Castillano, smiling and clapping his hands, taking delight in what had just happened," Msgr. Julius Perpetuo S. Heruela, the lead convenor of the Diocesan Electoral Board (DEB) of the Diocese of Dumaguete, said.
The DEB, a Commission on Elections (Comelec)-recognized umbrella organization of the Parish Pastoral Council for Responsible Voting and the National Movement for Free Elections, had earlier appealed during the peace covenant signing for support to achieve Clean, Honest, Accurate, Meaningful, and Peaceful (CHAMP) elections.
Heruela noted that this is the first time the two public officials were seen together in one event for the same objective.
Teves missed the DEB's Solidarity Walk and Peace Covenant last month at the Quezon Park as he had another important meeting elsewhere, the priest said.
"I am happy to see that these political candidates can set aside their differences and support a common good that will benefit the majority," he said.
Heruela thanked the governor and the lawmaker for their presence in the said event.
Castillano, the Negros Oriental provincial election supervisor-designate, earlier said he hoped that opposing poll bets would set aside politics for once and attend the peace covenant signing to show their intention to help attain secure, safe, and peaceful elections.
About 25 candidates were present for the peace covenant signing, including those seeking the posts of governor, vice governor, board member, and mayors.
The event was attended by Comelec Commissioner George Erwin Garcia, Lt. Gen. Robert Dauza, commander of the Visayas Command, Brig. Gen. Roque Vega, regional director of the Police Regional Office 7, Comelec-Central Visayas director Dennis Ausan, Brig. Gen. Leonardo Peña, commander of the Army's 302nd Infantry Brigade, police officials, election officers, and the media. (PNA)