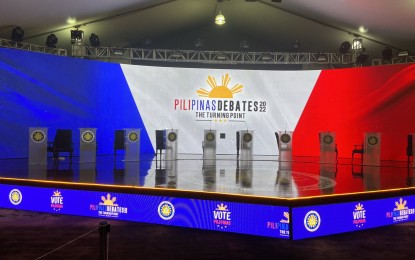 MANILA – Malacañang is saddened by the decision of the Commission on Elections (Comelec) to no longer push through with the conduct of the final presidential and vice presidential town hall debates.
In a press statement, acting presidential spokesperson and Communications Secretary Martin Andanar described the move as "unfortunate", noting that debates enable voters to evaluate potential leaders and their policies.
Andanar, however, welcomed the plan to instead hold a panel interview for presidential and vice presidential candidates.
"...The panel interview set by the Comelec, in partnership with the Kapisanan ng mga Brodkaster ng Pilipinas is a welcome opportunity for candidates to explain their intention and agenda to the Filipino electorate," he said.
Regardless of platform, Andanar said there is a need to disseminate political information to the public as this will help them become more aware and engaged citizens in the coming May 9 elections.
"Informing and educating our people on the candidates vying for the presidency and the vice presidency in whatever platform is crucial in a vibrant democracy such as the Philippines. The Filipino people deserve no less," he added.
On Monday, Comelec Commissioner George Garcia announced that Comelec will hold a panel interview for presidential and vice presidential candidates from May 2 to 6 instead of a town hall debate.
The PiliPinas debates were earlier rescheduled on April 30 and May 1 from the original schedule of April 23 and 24.
Some presidential and vice presidential candidates slated to attend the debates originally set on April 23 and 24 were noncommittal following the Comelec's change of plans.
Misunderstandings between Comelec's contractor for the debates, Impact Hub Manila, and the management of Sofitel Philippine Plaza were said to have caused postponements and eventually the cancellation of the debates.
The Comelec received a complaint from the management of Sofitel about Impact Hub Manila's failure to settle venue fees.
Impact Hub Manila failed to settle its PHP14 million debt to Sofitel where the last debates were supposed to be held.
Comelec Commissioner Rey Bulay is currently leading an investigation into the matter.
Garcia said should the Comelec find the contract with Impact Hub Manila disadvatageous, the contract could be canceled, the firm could be blacklisted, or a complaint for damages may be filed. (PNA)