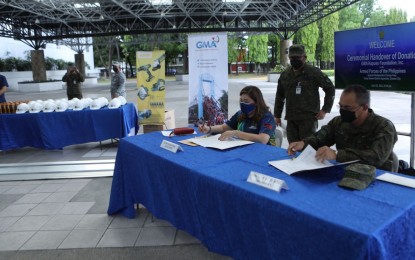 MANILA – The Armed Forces of the Philippines (AFP) received from GMA Kapuso Foundation (GMAKF) building materials that will be used in the repairs of military camps and patrol bases severely damaged by Typhoon Odette last December.
"We are very thankful to GMA Kapuso Foundation, one of our esteemed stakeholders, for supporting the AFP and for helping us rebuild our camps. We appreciate very much that we have partners who we can cooperate and collaborate with towards providing better services to our people," AFP chief Gen. Andres Centino said in a statement Monday night.
The handover took place on April 25 at the AFP General Headquarters Canopy in Camp Aguinaldo, Quezon City. The event was presided by Centino, GMAKF executive vice president and chief operating officer Rikki Escudero-Catibog, AFP acting deputy chief-of-staff for logistics Brig. Gen. Rene Raoul Rommel Honasan, and AFP chief engineer Maj. Gen. Gerardo P. Catindoy.
The Philippine Army (PA)'s 4th Infantry Battalion received 520 lightbulbs, 800 corrugated roof sheets, 100 pieces of ridge rolls, and eight boxes of roofing nails.
The GMAKF also donated 5,500 hard hats to the engineer units of the PA, Philippine Air Force, and Philippine Navy.
These will be turned over to the 51st Engineer Brigade; 52nd Engineer Brigade; 53rd Engineer Brigade; 54th Engineer Brigade; 55th Engineer Brigade; 355th Aviation Engineer Wing; and Naval Combat Engineer Brigade.
"We want to assure you that we are very thankful for all your help; the Army, Navy, Air Force, and Marines. Through us, you helped the grassroots, the Filipino people. It's such an honor to work side by side with our soldiers out on the field," Escudero-Catibog said.
The GMAKF is also a long-time partner of the AFP in providing relief assistance to residents affected by disasters in the country.
The AFP through its engineering units has assisted the GMAKF in the rehabilitation and construction of hanging bridges in Dingalan, Aurora; Naawan-Manticao, Misamis Oriental; Paquibato, Davao; Pansur, Lanao del Norte; and Iraya and San Ramon, Buhi, Bicol.
It also helped the foundation in the construction of school buildings in Cagayan Valley; Aurora; Catanduanes; Lanao del Norte; Zamboanga; and Marawi.
"Be assured of the all-out support of the Armed Forces to the GMA Kapuso Foundation during calamities, everywhere in the country. We shall continue to be your partner in helping our countrymen in times of need," Centino said. (PNA)