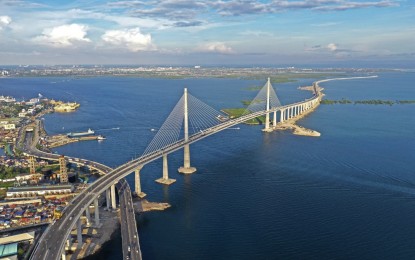 CEBU CITY – The municipal government of Cordova has committed to lay a strong ground in promoting responsible development, particularly in tourism as the town expects to attract more investments with the opening of Cebu-Cordova Link Expressway (CCLEX).
Town officials are now preparing for the visit of President Rodrigo Duterte on Wednesday for the opening ceremony of the iconic expressway that connects the island of Cordova and Mactan to this capital city.
Cordova Mayor Mary Therese Sitoy-Cho on Tuesday said even before the realization of this PHP30 billion toll bridge, Cordova has been positioning the town as an eco-tourism gateway in the Visayas.
Becoming a gateway to the southern part of Cebu is a big advantage for Cordova. Cho expects to host not only more tourism and real estate investments, but also other employment generating industries like business process outsourcing and retail.
Cordova has already crafted enhanced local government policies to support the robust development in the town moving forward, with serious emphasis on responsible development, the lady mayor said.
Now with heightened interest from investors, Cho said the existing laws and regulations in responsible development are strengthened.
It is no doubt, she said, that Cordova will be one of the immediate beneficiaries of the CCLEX. In fact, big-ticket investors such as SM Prime of the Sy family are already positioned to take part in the expected economic turnaround.
"My vision for Cordova, as reflected in the LGU's mission-vision, has always been for Cordova to become the eco-tourism gateway in the Visayas. This is supported by my platform of governance, which has not changed ever since I decided to become a public servant until now," Cho said in a statement.
The town mayor cited that the CCLEX and the Mangrove Propagation and Information Center, also a joint project between Manny Pangilinan's Metro Pacific Group and Cordova, "surely are instruments toward the realization of our vision".
The 8.9-kilometer CCLEX will have its soft opening on April 30. The ceremonial blessing which is expected to be graced by Duterte will be on April 27.
Cho said this development is a "dream come true" for Cordova, owing to the significant efforts contributed by her predecessor father, the late Secretary Adelino Sitoy during the conceptualization of this important landmark.
CCLEX is a project of the Cebu-Cordova Link Expressway Corp. (CCLEC) in partnership with the local government units of Cebu City and the Municipality of Cordova.
CCLEC is a wholly-owned subsidiary of Metro Pacific Tollways Corp. (MPTC), which counts the CCLEX as its first toll road project outside Luzon. (PNA)