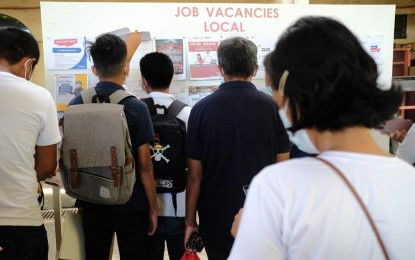 SAN FERNANDO CITY, La Union – Over 15,000 local and overseas employment vacancies are available for Ilocos Region residents on Labor Day in three different locations.
In an interview on Tuesday, Department of Labor and Employment (DOLE) Ilocos information officer Justin Paul Marbella said of the total number of vacancies, 14,623 are local and 481 are overseas employment offered by 64 local employers and seven overseas placement agencies.
"The job fair is now face-to-face or in person," Marbella said, as he advised applicants to strictly adhere to safety protocols, such as wearing face masks and observing physical distance.
The local job offerings include customer service representatives, production operators, collections specialists, retail/sales agents, sales representatives, and service crews.
Overseas work openings are factory workers, painters, frame workers, welders, plastic molders, machine and production operators, sales personnel, computer programmers, and graphic designers.
Marbella said job fair venues are on the third floor MMX Center, Magic Mall in Urdaneta City, Pangasinan; Tagudin Farmers Civic Center in Tagudin, Ilocos Sur; and Robinsons Mall activity area in San Nicolas, Ilocos Norte.
Meanwhile, DOLE offers virtual coaching sessions prior to the job fair to pre-registered seekers.
Marbella said the coaching session will tackle job interview tips, proper decorum of applicants, the right attitude of a successful worker, among others.
He added that aside from the employment coaching sessions that are scheduled this week per province, they will also be given health kits and fast-lane access to job search sites.