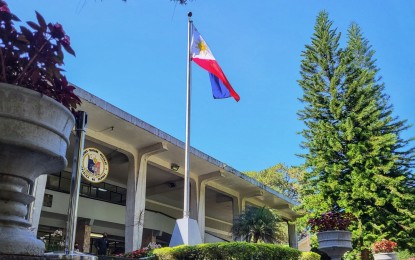 BAGUIO CITY – The Supreme Court (SC) en banc on Tuesday slammed all doors on petitions challenging Republic Act 11479 or The Anti-Terrorism Act of 2020 as it denied with finality the motions for reconsideration of its Dec. 7, 2021 decision.
In a statement during its summer sessions here, the SC said it "resolved to deny the motions for reconsideration due to lack of substantial issues and arguments" raised by petitioners of more than three dozen suits.
The members of the SC maintained their votes in December, written by now retired Philippine Judicial Academy Chancellor Rosmari Carandang.
The final copy of the decision has yet to be released as of posting time
In December, the SC upheld the validity of the law except for two provisions.
Aside from portions of Sections 4 and 25, all the other challenged provisions of RA 11479 were deemed constitutional.
Section 4 deals with excluding mass actions and similar exercise of civil and political rights from the definition of terrorism while Section 25 is about requests by foreign agencies or bodies to designate persons as terrorists and terrorist organizations.
The SC voted 12-3 to declare unconstitutional the qualifier portion of Section 4 that states "which are not intended to cause death or serious physical harm to a person, to endanger a person's life, or to create a serious risk to public safety".
This qualifier to the proviso in Section 4 "is declared as unconstitutional for being overbroad and violative of freedom of expression," the court said.
Likewise stricken down by a vote of 9-6 was a portion of Section 25, paragraph 2 which allows "request for designations by other jurisdictions or supranational jurisdictions may be adopted by the ATC (Anti-Terrorism Council) after determination that the proposed designee meets the criteria for designation of UNSCR No. 1373".
Among other provisions, the United Nations Security Council resolution urges members to "find ways of intensifying and accelerating the exchange of operational information, especially regarding actions or movements of terrorist persons or networks; forged or falsified travel documents; traffic in arms, explosives or sensitive materials; use of communications technologies by terrorist groups; and the threat posed by the possession of weapons of mass destruction by terrorist groups".
This year's SC summer sessions are the first since the coronavirus pandemic broke out in March 2020 and the first under Chief Justice Alexander Gesmundo, who was appointed on April 5, 2021. (PNA)