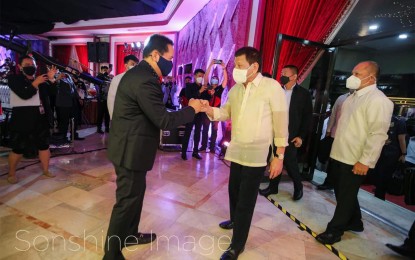 MANILA – President Rodrigo R. Duterte on Monday graced the 72nd birthday party of his spiritual adviser, Kingdom of Jesus Christ (KOJC) founder Pastor Apollo Quiboloy at the KJC headquarters in Davao City.
Photos on Quiboloy's official Facebook page show Duterte and the televangelist doing a fist bump, a gesture that substituted handshakes since the start of the Covid-19 pandemic.
In a separate birthday video message, Duterte also thanked Quiboloy for his loyalty and friendship.
"My warmest greetings to Pastor Apollo Quiboloy on your 72nd birthday. Thank you for your profound loyalty and support over the years of our friendship," he said.
Duterte also urged his spiritual adviser to be more determined about overcoming obstacles he is currently facing.
"May you strengthen your resolve as you face the challenges that come with the noble duty of strengthening the faith of our people. I wish you good health, more birthdays to come," he added.
Duterte and Quiboloy's friendship spans 30 years when the former was not yet Davao City mayor and Quiboloy's KJC only had 15 followers.
The President had also granted exclusive interviews to Quiboloy through his TV channel, Sonshine Media Network International's (SMNI), several times.
Quiboloy was among the guests invited to the 18th birthday party of Duterte's youngest child, Veronica or Kitty on April 9 at the Dusit Thani Hotel in Davao City.
He sat next to Duterte and his partner and Kitty's mother, Honeylet Avanceña, at the main banquet table.
In November 2021, Quiboloy and eight of his associates were indicted in the US for "conspiracy to engage in sex trafficking by force, fraud and coercion, and sex trafficking of children; sex trafficking by force, fraud, and coercion; conspiracy; bulk cash smuggling."
He is scheduled to be tried in the US in 2023 along with his associates.
Quiboloy's lawyer, Ferdinand Topacio, denied all charges and said the cases his client is facing are indirect attacks against Duterte, considering how close the two are.
Malacañang maintained that Quiboloy could defend himself in court. (PNA)