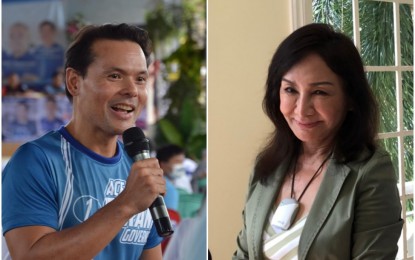 CEBU CITY – The camp of presidential candidate Ferdinand "Bongbong" Marcos Jr. (BBM) in Cebu is confident of clinching Cebuano votes in the May 9 elections following a pledge of support from another gubernatorial bet, former Tourism Secretary Jose Felix Mari "Ace" Durano.
This development will be a repeat of history wherein opposing camps in the province are supporting a common presidential candidate.
Erik Miguel Espina, former Cebu City councilor and UniTeam Alliance-Cebu director, said on Tuesday that Durano has announced his decision to go with his national party, Partido Pilipino Pagbabago (PPP), in supporting Marcos.
"All hands on deck. Unsolicited support from any Juan de la Cruz in politics is welcome, for the greater cause. Current politicization is no longer addition, but multiplication," Espina told the Philippine News Agency in a message.
He said the political phenomenon of contending local candidates endorsing a common presidential candidate is not new in the country's politics.
Espina said old alliances and affinities of political families in a locality are mostly what would count in choosing a national party or alliance.
"The stronger and leading candidate/tandem is always in a preferred advantage for creating new alliances, to include furthering/cementing long-standing affinity, from fathers to sons, especially among the old political names," he said. "This is realpolitik, inured and strengthened under the debased status of our party system".
He claimed that the team supporting the tandem of Marcos and Davao City Mayor Sara Duterte" is harvesting the masa (masses) and the stellar leaders of Cebu".
Durano's latest pronouncement would mean that his camp and his rival, incumbent Governor Gwendolyn Garcia, will be supporting one presidential bet.
In 2004, the Garcias and Duranos also endorsed a common presidential candidate and delivered votes for former President Gloria Arroyo.
In a statement, Durano also said he is a member of the PPP which "recently posted a manifesto of its support for BBM".
"It was published two days ago and I was personally informed by PPP national chairman only late afternoon yesterday," he said.
Durano is also a scion of the clan that founded the Barug Alang sa Kauswagan ug Demokrasya (Bakud) which earlier pledged support to Marcos and Duterte.
He said he also informed Vice President Leni Robredo's camp of the development right after he was informed of the PPP's decision to support the UniTeam candidates.
Durano's camp is scheduled to woo voters in Talisay City on Tuesday, supposedly with Robredo's attendance but they canceled the invitation for the vice president.
"As such, we apologize to those who expected VP Leni to attend such gathering… Like Vice Governor Junjun's statement, from the start we already expected the possibility of supporting different presidential candidates," he added, as his running mate Davide remains supportive of Robredo. (PNA)