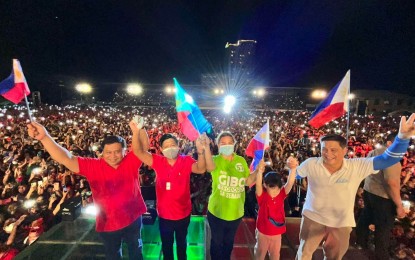 CAGAYAN DE ORO CITY — Despite a heavy afternoon rain, thousands of UniTeam supporters stayed to see the frontrunner tandem of presidential candidate Bongbong Marcos and vice-presidential aspirant Sara Duterte in a rally at the Pelaez Sports Complex here Tuesday.
Adelaida Acabu, 34, from Balingasag, Misamis Oriental, was among thousands of followers who braved the nearly three-hour rain just to be in front of the stage.
"Alas sais pako sa buntag naa diri. Kadtong nag-ulan naa gihapon ko diri wa ko nihawa aron dili ko mapulihan ug aron makita gyud nako sila sa stage," Acuba, who was still soaking wet at around 7 p.m. (I was here since 6 this morning. When it rained I stayed here because I want to see them on stage)," she said.
She added: "Sila (BBM-Sara) akong gusto suportahan ug nanghinaot ko sa ilang kadaugan (I support them and want them to win)," she added.
Another staunch supporter who bravely waited for the candidates under the UniTeam ticket was Clifford Sabejon, who hails from Tagaloan, Misamis Oriental.
"Ganina mga 1 p.m. ko naabot diri sa sports complex. Bisan nag-ulan naghulat mi makita ang mga kandidato sa UniTeam (I arrived here at 1 p.m. and waited despite the rain)," Sabejon, a construction foreman, said.
Throughout the rally, Sabejon was seen waving his wet huge Philippine flag.
"Wala nako niuli ug balay pag-ulan. Bahala og mabasa. Nagpadayon ko diri kay nakita man nako nga insakto ang pagdala sa Davao City ug tinuoray ang ilang tumong (I did not go home when it rained)," he added.
In her speech, Sara recalled that they received overwhelming support from the people of Cagayan de Oro in 2016 when they campaigned for then Davao City Mayor Rodrigo Duterte's presidential bid.
"Niadtong 2016, nangampanya mi para kay President Duterte, nag-Byaheng Du30 mi nagsakay mi ug bus. Diri mi nakakita sa Cagayan de Oro og dako kaayo nga pagwelcome sa mga tao sa highway (In 2016, swe campaigned for President Duterte on a bus. We witnessed here in Cagayan de Oro the huge welcome of people along the highway)," Sara said.
Duterte, who is now in the final two weeks of her campaign, thanked thousands of people for the sustained love and support their families receive through the years.
"Dili mahurot ug wala mi sakto nga words sa pagpasalamat namo sa kanunay ug hugot ninyo nga suporta sa pamilyang Duterte. Thank you very much 9I cannot find the exact words to thank you for your support to the Duterte family)," she said. (PR)