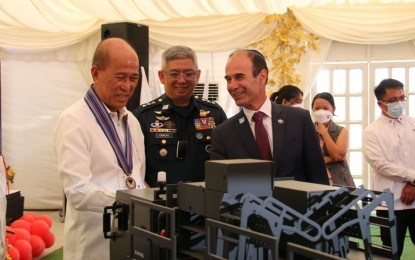 MANILA – The Philippine Air Force (PAF) can now train on various surface-air missile engagement techniques after it formally accepted its first missile simulator, the SPYDER Philippines Air Defense Systems (SPAD) Simulator-Training Center.
Air Force spokesperson Col. Maynard Mariano, in a statement Tuesday night, said the acceptance, turnover, and blessing ceremony took place at the Basa Air Base in Floridablanca, Pampanga on April 26.
"The SPADS Simulator-Training Center is the AFP's (Armed Forces of the Philippines) first missile training center, which will serve as a training ground for future missile operators to prepare them for real-world challenges, as well as to increase personnel knowledge, skills, and develop the right attitude for air and missile defense," he said.
The SPAD Simulator-Training Center is part of the Ground Base Air Defense System (GBADS) acquisition project of the PAF, which seeks to enhance the military's defense capabilities.
Defense Secretary Delfin Lorenzana was the guest-of-honor of the event, along with PAF chief Lt. Gen. Connor Anthony Canlas, Israeli Ambassador to the Philippines Ilan Fluss, Rafael Advanced Defense System executive vice president retired Brig. Gen. Pinhas Yungman, and Air Defense Command chief Maj. Gen. Augustine Malinit.
"During the activity, Secretary Lorenzana, along with PAF senior leaders were able to witness the missile engagement simulation and the training capabilities of the center and its attendant facilities," Mariano said.
In a statement Wednesday, Lorenzana said acquiring capital assets to help defend the country has always been one of the priorities of defense department.
"As your defense chief for nearly six years, my happiest and proudest moments were the attainment of milestones in the Armed Forces of the Philippines (AFP) Modernization Program," he said.
The simulator training center aims to develop three different capabilities -- detection through radar, command and control, and missile firing.
It is also custom-made for the men and women of the PAF to utilize in their training on advanced air defense techniques.
Lorenzana also urged the PAF to take advantage of the new facility and prepare for more assets to come.
"May this new simulator training center inspire you to look into the Command's bright future, utilize its capabilities to ensure the success of your missions," he said.
SPYDER is short for the surface-to-air PYthon and DERby mobile-air defense system developed by the Rafael Advanced Defense Systems with assistance from Israel Aerospace Industries.
The Notice of Award for the GBADS acquisition project was released in 2019.
The PAF did not give the specific number of SPYDER batteries it is set to acquire. (PNA)