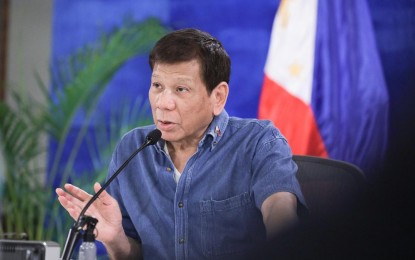 MANILA – President Rodrigo R. Duterte on Tuesday night welcomed the commitment of the Covid-19 Vaccines Global Access (COVAX) facility to replace around 3.6 million doses of vaccines in the country that have expired.
"That's nice of them to do that. It's a distinct humanitarian sentiment," Duterte said in a prerecorded public address with Cabinet officials aired Wednesday morning.
This, after Department of Health (DOH) Secretary Francisco Duque III revealed the good news and assured that the Philippines will not be spending a single cent for the replacement of Covid-19 jabs.
"Ire-replace po ng COVAX facility. Nag-meeting na po kami kahapon at mayroon na po silang sulat sa atin (The COVAX facility will replace them. We had a meeting yesterday and they have sent me a letter)," Duque told Duterte.
He said the replacement of Covid-19 vaccines will be done for both doses that have been donated and procured by the government.
The 3.6 million doses of Covid-19 vaccines that have expired account for 1.46 percent of the country's current vaccine inventory, Duque said.
He said this figure is below the 10 percent indicative wastage rate used by the World Health Organization (WHO).
Duterte, in response, said he was "happy" to learn that the expired Covid-19 jabs would be replaced for free.
Follow health protocols
Meanwhile, Duterte reminded Filipino voters to ensure compliance with minimum public health standards, especially on election day.
"Better again remember when you go to the electoral precincts, kindly tell yourself that you have to remember the things that government wants you to follow. So that hindi masyado tayo mahirapan (So we do not have too much difficulty) and we will prevent another surge," he said.
He encouraged the public to trust health and medical experts such as doctors and scientists, noting that they have thoroughly studied and tested the best ways to respond to the ongoing health crisis.
"...You have to listen to our medical professionals, our scientists, Pilipino ang mga scientists natin, may alam 'yan. Huwag na tayong magpa-ano pa na mas marunong tayo kaysa kanila (our scientists are Filipinos, they are knowledgeable. Let us not think we know better than them)," he added.
Duterte said having only "a little knowledge" about measures to protect oneself against Covid-19 is "a very dangerous thing."
"It's a question of law and you are a lawyer, then okay lang (it's okay). But if you are not — you are a lawyer and you start to argue with things that you think that you know better than the medical practitioners, 'yan sabi ko little knowledge of -- bantay ka diyan (that's what I'm saying that you better watch out)," he added.
The fate of national and local candidates will be decided by over 65 million Filipinos who are expected to cast their votes on May 9. This will be the first polls that will be conducted under pandemic conditions.
As of April 26, there are 67.6 million Filipinos who are fully vaccinated against Covid-19, but only 13 million have received a booster shot. (PNA)