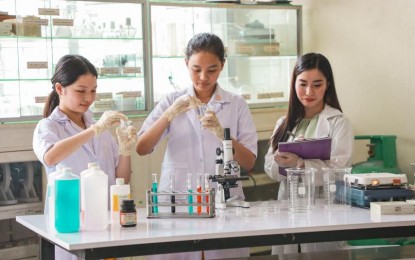 MANILA – Several senior high school students were delighted by the Department of Education's (DepEd) push for the reintroduction of in-person work immersion on Wednesday.
Isabella Lladoc, a Science, Technology, Engineering, and Mathematics (STEM) strand student, said she agrees with DepEd's decision, as learning can be gained through on-the-ground immersion.
Lladoc, who wants to be a nurse, admitted being dismayed by the current distance learning setup.
"I was a little disappointed because me and my friends are actually excited to be able to experience the work immersion. But on the other hand, I understand the situation that we have because of the virus. It would be risky for schools to allow their students to have immersion in this time of the pandemic," she said.
Aspiring veterinarian Janine Dela Providencia, 17, said she would rather do her actual training in the pet clinic, noting their online school setting remains a challenge.
"Hindi ganun kadaling maintindihan ang lesson. Sa tingin ko makakatulong (ang face-to-face immersion) dahil mas mabibigyan ng pansin ang pag-aaral (Understanding the lessons is not that easy. I think this will help us give more attention to learning.)," she said.
Meanwhile, Angela Case, an accountancy, business, and management student, said senior high school (SHS) students should be given the in-person learning opportunity, to help them decide what careers to pursue, based on actual experience, while adhering to public health standards.
"For me, with regular and consistent practice of safety precautions, it's the right move. Kasi (because) next year, we'll be in grade 12. It would be a waste to finish senior high school with incomplete learning. I've also asked my classmates and friends about this topic and they've also said the same thing. However, it's understandable that some will be cautious of this yet again big change," she said.
In a statement, the DepEd said they are favoring the reintroduction of SHS students' in-person immersion, for them to secure actual experiences in their respective specializations.
"We are strongly suggesting that Work Immersion should be implemented for the Senior High School learners as they are nearest to accomplishing their postsecondary goals and dreams," Education Secretary Leono Briones said.
DepEd Assistant Secretary Malcolm Garma said this will be applicable for schools that are qualified for the progressive face-to-face classes, as well as for industries adhering to the minimum health standards.
"Naniniwala tayo na ang Grades 11 and 12 ay kailangang bumalik sa kanilang klase, so 'yong immersion natin ay kasama sa babalik sa ating face-to-face classes. Kung magkakaroon na sila ng immersion sa anomang industriya, isasailalim sila doon sa mga patakaran na pinaiiral ng IATF (We believe that [those in] Grades 11 and 12 already need to go back to classes, so the immersion will likewise be back alongside the face-to-face classes. If they will have immersion in any industry, they will be subjected also to guidelines set by the Inter-Agency Task Force)," Garma said. (PNA)