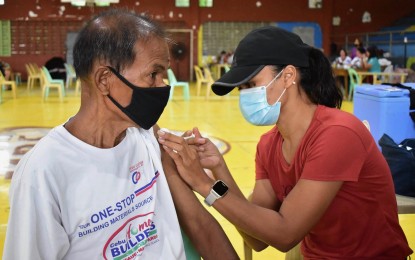 MANILA – Around 2,100 individuals have received their second booster shot of the Covid-19 vaccine so far, the Department of Health (DOH) said Wednesday.
National Vaccination Operations Center (NVOC) data show that as of April 26, there are 51,476,898 fully vaccinated individuals who are due to receive the first booster dose. Only about 13,043,715 or 25.34 percent of them have received booster shots.
The DOH aims to inoculate 690,000 individuals for the second booster.
"The decision to proceed with the fourth dose or second booster for the immunocompromised population is based on the existing evidence that immunocompromised individuals may mount less of a response to Covid-19 vaccination as compared to other individuals," the DOH said in a statement.
The agency is still waiting for the recommendation of the Health Technological Assessment Council for the administration of a second booster shot to senior citizens and frontline healthcare workers.
"Since these recommendations require careful deliberation and review, it would be best to ensure that recommendations are made after thorough research so that the safety and efficacy of a second booster for these populations are ensured," it said.
The DOH earlier confirmed that a hospital in the National Capital Region which it declined to name mistakenly administered the second booster shot against the coronavirus to healthcare workers and senior citizens who are not immunocompromised.
The hospital management had explained that "they unintentionally misinterpreted guidelines".
Under the amended emergency use authorization approved by the Food and Drug Administration, senior citizens, frontline healthcare workers, and immunocompromised persons may be given a second booster shot. (PNA)