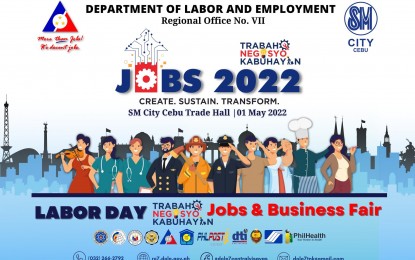 CEBU CITY – Jobseekers will have a big chance of landing a job as an estimated 10,000 vacancies will be available at the Labor Day job fairs in Cebu and Dumaguete, the Department of Labor and Employment (DOLE)-Region 7 said on Wednesday.
Undersecretary Victor Del Rosario, DOLE-7 concurrent regional director, said in a statement the regional field office in Central Visayas will organize a job fair on May 1 at the SM City Cebu Trade Hall in this city and their Negros Oriental provincial field office at the Lamberto Macias Sports Complex, Capitol Area in Dumaguete City.
In Cebu, close to 3,000 local positions for customer service representatives, sewers, sewing operators, customer/technical service associates, and production operators are available.
For those who are seeking jobs overseas, about 5,848 positions will be filled, including carpenters, foreman welders, laborers, waiters/waitresses, foremen electrical, and foremen piping.
In Negros Oriental, there will be more than 800 local positions available and around 600 job titles posted for overseas employment.
Del Rosario urged jobseekers to take advantage of this opportunity and to pre-register first online through bit.ly/register-dolero7-job fair.
"All they have to do is get ready with their resume, curriculum vitae, and other credentials," the labor official said, adding that once the online registration form is completely filled out, jobseekers could proceed as early as 7 a.m. at the job fair venues.
He said: "Participating companies will get real-time notifications and may conduct on-the-spot interviews with the applicants".
Vaccination cards will no longer be required, the DOLE-7 statement said.
Dubbed the "Trabaho, Negosyo, Kabuhayan" (TNK) Jobs 2022, the event would offer jobseekers, students, new graduates, and other workers alike ample access to a wide range of services from the Labor agency and its partner agencies. (PNA)