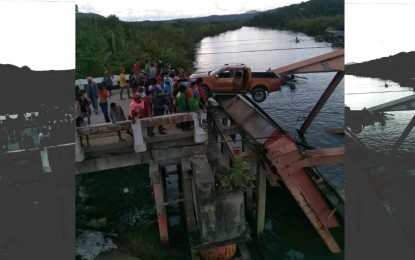 CEBU CITY – Seven individuals were rescued and more are being hoped to be found alive after the old Loay-Clarin Bridge over Loboc River in the town of Loay, Bohol province collapsed Wednesday afternoon.
A number of vehicles fell into the water and scores of people are missing and believed still trapped inside.
Mayor Hilario Ayuban said in a media interview that the old bridge collapsed past 4 p.m. and first responders, including local disaster risk reduction and management personnel and the Philippine Coast Guard (PCG), immediately arrived in the area to conduct search and rescue operations.
Authorities could not ascertain how many people are still underwater as the operation to retrieve them is ongoing.
The PCG-Western Bohol station said it received the report on the bridge's collapse at 4:10 p.m. PCG personnel, along with those from the Bureau of Fire Protection, Loay's Disaster Risk Reduction and Management Office, and local fishermen are conducting the search and rescue.
Rescuers were said to be experiencing difficulties in finding more survivors due to the river's murky waters and its depth, but they continue with the operations in the hope of saving more lives.
"The river is around seven to eight meters deep," Lt. Junior Grade Edsel Gonzaga of PCG-Bohol said in Cebuano in a radio interview. (PNA)