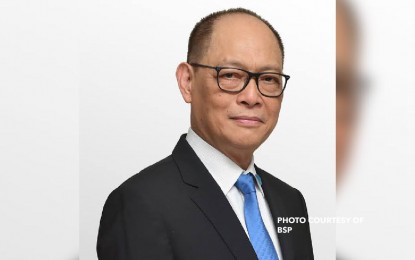 MANILA – Monetary officials will likely consider a hike in the central bank's key rates in June, or once the 2022 first-quarter domestic output report is out, Bangko Sentral ng Pilipinas (BSP) Governor Benjamin Diokno said.
In an interview over Bloomberg television on Tuesday night, Diokno said BSP's policy-making Monetary Board (MB) will assess data on domestic growth, which "maybe around 6-7 percent."
The Board will have its third rate-setting meeting on May 19.
"And so, on the basis of that, maybe we'll make another cycle, which is we have another meeting, and maybe that's the time when we will consider increasing (key policy rates)," he said.
The MB is scheduled to have its fourth rate-setting meeting on June 23.
It has kept the BSP's key rates steady after slashing it by 200 basis points in 2020 --a move aimed at aiding the domestic economy from the impact of the pandemic.
However, economists have been factoring in a hike starting in the first quarter of this year because of expected acceleration of inflation rate given the rising prices of oil and some commodities in the international market.
The Federal Reserve, for one, hiked its key rates by 25 basis points last March, the first since December 2018, as consumer price index (CPI) in the US registered its four-decade high starting last January.
Asked if he fears that the BSP will be behind the curve amid the decisions of its counterparts overseas, Diokno said the big difference is the real interest rate in the Philippines and the US.
He said the US' CPI is now at 8.5 percent, which was the rate last March, while average inflation in the Philippines in the first quarter was at 3.4 percent.
"So, given that, I think we can afford to wait as to what will be the move of the Fed in the next two meetings," he added.
After the first key rate hike last March, the Fed is expected to make five to six times more for the year, with the May rate increase expected to be around 50 basis points based on the statements by Fed Chair Jerome Powell. (PNA)