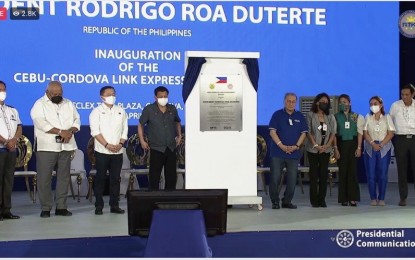 CEBU CITY – President Rodrigo Duterte said the new Cebu-Cordova Link Expressway connecting Cordova town and this capital city that was inaugurated on Wednesday will solve Metro Cebu's traffic problem and boost regional economic development.
The President congratulated the Metro Pacific Tollways Corp., the Cebu-Cordova Link Expressway Corp., and local governments of Cebu City and Cordova municipality for completing the iconic landmark despite the challenges brought about by the coronavirus disease 2019 (Covid-19) pandemic and the onslaught of Typhoon Odette in December last year.
Duterte also invited the officials who attended the event to have a minute of silence in honor of the late Presidential Legislative Liaison Office Secretary and former Cordova Mayor Adelino Sitoy who worked hard to realize the third bridge project connecting Cordova and Mactan islands to this city.
"Your support for this administration's goal to boost regional development, providing a comfortable life for every Filipino and realizing our vision of a strongly connected nation is truly commendable. While your hard work and dedication to ensure the completion of this monumental task are equally noteworthy," he said in his speech after unveiling the marker of the iconic bridge along with MPTC chair Manny Pangilinan, Cebu Governor Gwendolyn Garcia, Cebu City Mayor Michael Rama, Cordova Mayor Mary Therese Sitoy Cho, and other officials.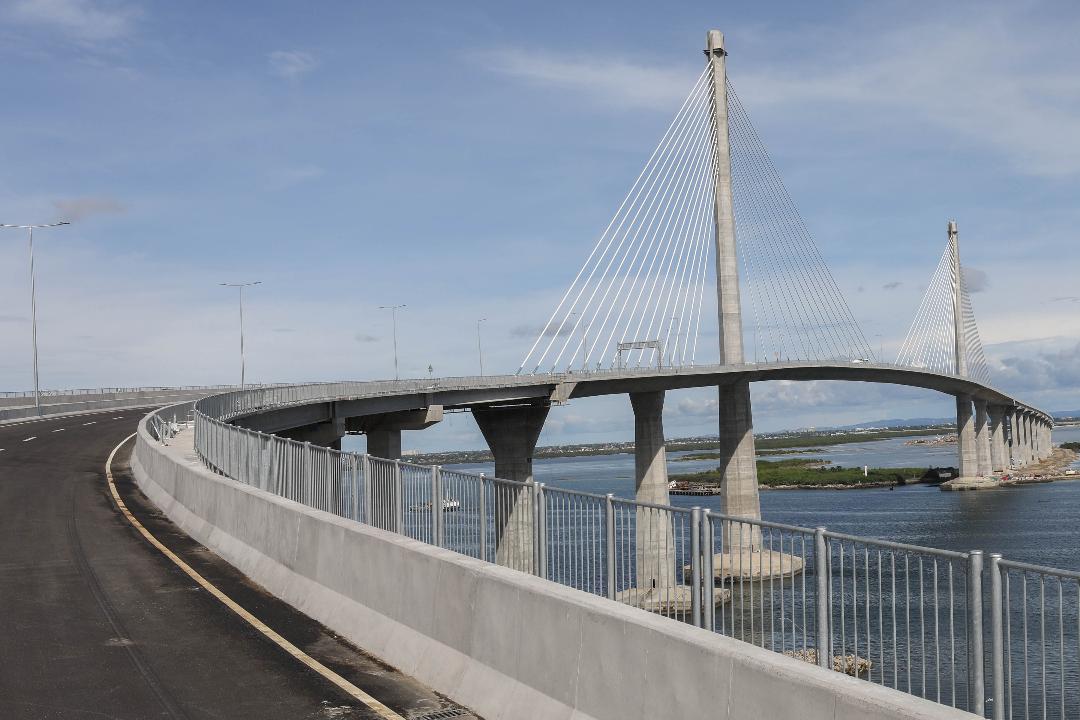 The President said the "state of the art infrastructure will provide solutions to the perennial traffic issues of Metro Cebu".
"I am hopeful this shall likewise result in an increase in economic productivity in the province and the rest of the Visayas through safer, faster, and more convenient means of transporting goods as well as people," he added.
Duterte also underscored the relevance of launching the iconic expressway coinciding with the 501st anniversary of the Victory of Mactan where he also spoke during the celebration at the Mactan Shrine in Lapu-Lapu City.
He said that in his administration, he gave his full dedication "to bringing a more comfortable life for all through sustainable, safe, and reliable infrastructure for better mobility (and) transport, especially that we are really crowding every space now".
He assured that no Filipino will be left behind as the government steadfastly and collectively works toward a stronger and progressive nation. "Let us celebrate another victory that would alleviate the plight of our fellow Filipinos," Duterte said.
Pangilinan, for his part, said Cebu has started to reap the benefits of the project, which was built at the cost of at least PHP33 billion.
"We are happy to have been involved in building this piece of magnificent infrastructure for our countrymen in Cebu," Pangilinan said. "It will bring in more investments, stimulate trade and commerce, revitalize tourism, and give a collective sense of pride among its people."
The President and Pangilinan were joined at the event by Senator Christopher Lawrence "Bong" Go, Executive Secretary Salvador Medialdea, Department of Public Works and Highways Secretary Roger Mercado, and various officials from different government agencies and executives from the private sector. (PNA)