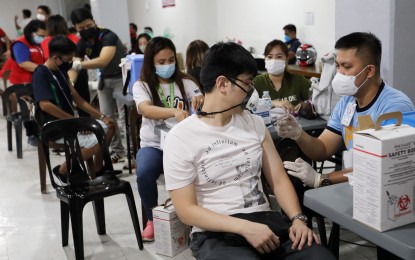 MANILA – Getting a booster shot of the Covid-19 vaccine helps protect against Sars-CoV-2 variants, the Department of Health (DOH) reiterated Thursday as the country logs its first case of the Omicron BA.2.12 subvariant.
"Omicron BA.2.12 reminds us that the virus is still out there, and the cases can go up the moment we let our guard down," the DOH said in a public advisory.
The BA.2.12 subvariant has been detected in a 52-year-old Finnish woman who tested for Covid-19 after having mild symptoms nine days following her arrival in the country.
The DOH urged eligible individuals to receive their booster shots immediately as immunity provided by the primary series of Covid-19 vaccine is proven to wane over time.
It also reminded the eligible immunocompromised persons to receive their second booster shot at least three months after their first booster dose.
In the latest run of whole genome sequencing, about 83 persons or 63 percent of the 132 sequenced samples had Omicron variant.
The 83 samples were from 10 regions and one foreign national.
Of the remaining 49 samples - four were Delta cases, all from Region 11 and the other 45 had no lineage assigned.
To date, Delta comprises the biggest proportion of the 28,908 total samples sequenced at 30 percent. It is followed by Omicron at 25 percent.
However, most recent runs showed that Omicron still comprises the highest percentage among detected variants. (PNA)