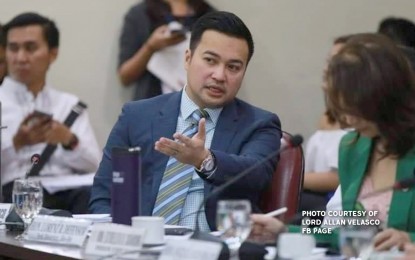 MANILA – Speaker Lord Allan Velasco on Thursday called on the next set of leaders to ensure the proper enforcement of the Marawi Compensation Act for the full recovery of war-torn Marawi City.
Speaker Lord Allan Velasco made the call after President Rodrigo Duterte signed Republic Act 11696, or the Marawi Siege Compensation Act of 2022, which aims to provide monetary aid to victims of the 2017 Marawi siege.
Velasco said the newly-signed law is a priority legislation of the 18th Congress designed to help Marawi residents rebuild their lives and pave the way for the city's full recovery.
"We see this legislation as one of the important legacies of the Duterte presidency and the 18th Congress. Thus, we call upon our next set of leaders to the proper enforcement of this law so that we can achieve our goal of seeing Marawi rise again sooner rather than later," he said in a statement.
He expressed hope that the new law would help bring back the "beautiful" city's glory and its people back on their feet.
"We also hope to ease the burden of those who lost their properties and loved ones during the war by providing them just compensation," he said.
RA 11696, signed by Duterte on April 13 and was released to reporters on Wednesday, provides for the creation of the Marawi Compensation Board (MCB) headed by a chairperson and eight members.
At least three members of the board must be members of the Philippine Bar, preferably Maranao lawyers, who have been engaged in the practice of law for at least five years; two representatives must be members of civil society organizations where at least one of whom is either a Sharia lawyer or a Muslim traditional leader; other members must be licensed physician; certified public accountant; educator; and licensed civil engineer.
Under the law, the MCB will facilitate the tax-free payment of reparations to "qualified claimants" who lost residential and commercial properties due to the Marawi siege.
"Any person who is a lawful owner of a residential, cultural, commercial structures, and other properties as stated in the definition of terms located in the [main affected areas] or [other affected areas], and was destroyed or damaged either totally or partially on the occasion of the Marawi Siege and the heirs of those who died and legally presumed dead may file a claim with the Board for compensation..." the law read.
RA 11696 also grants private property owners a compensation based on the sum of the current market value of the land and the replacement cost of structures and improvements.
"The Board shall determine the monetary compensation and award to the lawful owner(s), whichever is the lower amount of either the fair market value of the residential, cultural, commercial structures, or other real properties or the value of its total area per story equivalent to an amount to be determined in the implementing rules and regulations of this Act," the law read.
The law added, "In case of claims for loss or destruction of personal properties, the claimant shall present competent evidence of the loss or destruction, ownership, as well as the fair market value of the personal properties."
The award of monetary compensation will take effect within 30 days after the MCB has approved with finality each eligible claim. (PNA)