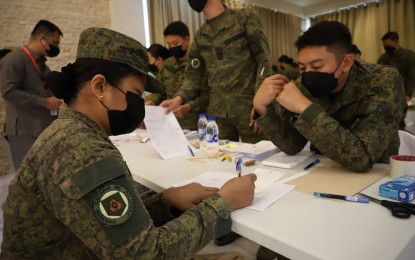 MANILA – Some 34,570 personnel from the Philippine Army (PA) registered to cast their votes in the local absentee voting scheduled from April 27 to 29.
"According to the Commission on Elections (Comelec), a total of 34,570 PA personnel have qualified for local absentee voting. Local absentee voters are eligible to vote for national candidates -- president, vice president, senators, and party-list (representative) -- during the three-day local absentee voting period that will end on April 29, 2022," Army spokesperson Col. Xerxes Trinidad said in a statement Thursday night.
He added that these are the PA personnel who are deployed for election duties this May 9.
The local absentee voting for qualified PA personnel started on Thursday.
"In his earlier guidance, Army Commanding General Lt. Gen. (Romeo) Brawner (Jr.) has reminded Army troops of their two tasks in the May 2022 national and local polls -- to practice the right of suffrage and to ensure the safe, orderly, and peaceful conduct of elections," Trinidad said.
Brawner directed troops to observe the organization's non-partisan stance and to refrain from liking, sharing, or posting social media content that is political in nature.
Meanwhile, some 1,349 National Capital Region Police Office (NCRPO) personnel availed of absentee voting, allowing them the opportunity to exercise their constitutional right of suffrage in advance.
The NCRPO covers five districts -- the Manila Police District (MPD), Quezon City Police District (QCPD), Northern Police District (NPD), Southern Police District(SPD), and Eastern Police District (EPD).
NCRPO Director Maj. Gen. Felipe Natividad on Thursday said a total of 203 personnel of the Regional Headquarters; 116 from NPD; 143 from EPD; 113 from MPD; 332 from SPD ; and 442 from QCPD were approved by the Comelec to avail the absentee voting. (With report from Christopher Lloyd Caliwan/PNA)