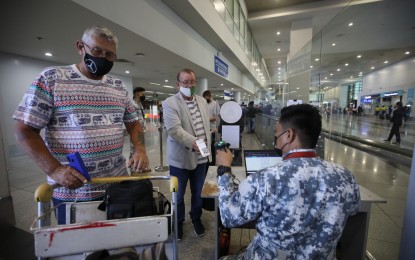 MANILA – Travelers can now present the national coronavirus disease 2019 (Covid-19) vaccination certificates of Lao PDR and Rwanda upon their arrival in the Philippines, Malacañang said Friday.
This, after the Inter-Agency Task Force for the Management of Emerging Infectious Diseases (IATF-EID) approved the acceptance and recognition of the two countries' national Covid-19 vaccination certificates.
The latest IATF-EID's decision was contained in Resolution 167 approved Thursday.
In a press statement, acting Presidential spokesperson and Communications Secretary Martin Andanar said the national Covid-19 vaccination certificates of Lao PDR and Rwanda can be used for purposes of arrival quarantine protocols, as well as for inter-zonal or intrazonal movement.
"This is in addition to other countries/territories/jurisdictions whose proof of vaccination the IATF has already approved for recognition in the Philippines, and without prejudice to such other proofs of vaccination approved by the IATF for all inbound travelers," he said.
The Bureau of Quarantine, the Department of Transportation's One-Stop-Shop, and the Bureau of Immigration have been directed to recognize only the proofs of vaccination approved by the IATF-EID, Andanar said.
The other acceptable proofs of Covid-19 vaccination include the World Health Organization International Certificate of Vaccination and Prophylaxis, VaxCertPH, national or state digital certificate of a foreign country accepting VaxCertPH, and other proof of vaccination permitted by the IATF-EID.
Foreign travelers are already allowed to enter the Philippines without an entry exemption document as long as they comply with the applicable visa requirements and immigration entry and departure formalities.
They must have passports valid for at least six months at the time of their arrival as well as valid tickets for their return journey to the port of origin or next port of destination not later than 30 days from the date of arrival.
Before they arrive in the Philippines, they must obtain travel insurance for Covid-19 treatment costs from reputable insurance providers, with a minimum coverage of USD35,000 for the duration of their stay in the country.
Foreigners who fail to fully comply with the conditions and requisites set by the IATF-EID shall be denied admission and shall be subject to the appropriate exclusion proceedings. (PNA)