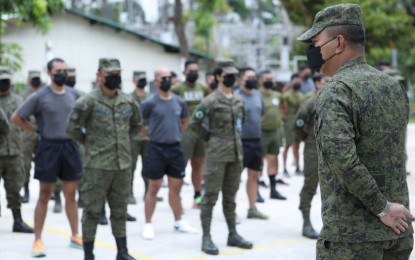 MANILA – Armed Forces of the Philippines (AFP) Chief Gen. Andres Centino expressed confidence the military can effectively reduce the numbers of armed insurgents and weaken their firepower through intensified focused military operations.
Centino cited the successive accomplishments of government forces against the New People's Army (NPA) particularly in Samar, Negros, and Mindanao.
He also praised the 53rd Engineer Brigade for efficiently performing their mandate, thus helping troops on the ground accomplish their tasks against communist terrorist groups.
The AFP chief also lauded the officers and enlisted personnel of the Cebu-based 53rd Engineer Brigade for their efforts to help their fellow Filipinos hard hit by the recent typhoons during his visit there on Thursday.
"I am here to relay to you not just my commendation but also the commendation of the President (Rodrigo R. Duterte) for your rescue, relief, and rebuilding efforts not just during Typhoon Odette but also in Typhoon Agaton. The President was very emphatic when he said he is very grateful for the soldiers' services to the people," he said in a statement on Friday.
Centino was in Camp Lapu-Lapu, Cebu City to check on the state of morale of troops assigned at the 53rd Engineer Brigade.
He was received by its 53rd Engineer Brigade commander Col. Proceso Rebancos.
The AFP chief reminded soldiers to remain professional and committed to the chain of command, especially since the May 9 national and local elections draw near.
"As professional soldiers, we should strictly practice being non-partisan. We should remain focused on our task to ensure that the election process is carried out safely, securely, and peacefully," Centino said.
Meanwhile, six personnel from the Philippine Air Force (PAF)'s 505th Search-and-Rescue Group, who rescued 96 civilians from a burning residential building in Mandaluyong City on September 2, 2021 were recognized in a pin-and-award ceremony last April 27.
The awarding took place during the 4th Asian Defense & Security (ADAS) and Crisis Management Exhibition and Conference at the World Trade Center in Pasay City.
The awardees were Maj. Cliford Mardicas, 1st Lt. Jezreel Panelo, Technical Sgt. Ruel Bilan, Technical Sgt. Arnold Marges, Staff Sgt. Dunhill Guanzon, and Staff Sgt. Joey Lopez.
Defense Undersecretary Cardozo M. Luna, who read the message of Defense Secretary Delfin Lorenzana, said: "I am certain that there was no expectation on your part when you did your duty with gallantry on September 2, 2021 because that is what you always do in the search-and-rescue group. You are truly deserving of your awards for having saved not only 96 lives but 96 families who could have lost their loved ones if not for your prompt and efficient rescue operation."
The ceremony was initiated by Lockheed Martin and Sikorsky, the company that manufactured the S-76A helicopter used by the rescuers to evacuate civilians from the Metro Tower Building in Mandaluyong City.
"While the Armed Forces never demand awards and recognition, as Defense Secretary, I see the value in highlighting extraordinary heroism as a morale booster and reminder of the nobility of our Filipino soldiers. Allow me, therefore, to thank Lockheed Martin and Sikorsky for organizing this recognition ceremony to appreciate the heroism not only of the awardees but of all Filipino soldiers in general," Lorenzana added. (PNA)