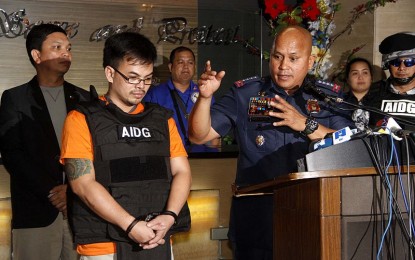 MANILA – The retraction of self-confessed drug lord Kerwin Espinosa has no impact on the pending drug-related charges against detained Senator Leila de Lima, Malacañang said on Friday.
"While Kerwin Espinosa appears to have recanted his allegations against Senator Leila de Lima, his recantation will not have any effect on the pending criminal cases against the lady senator," acting Presidential Spokesperson and Communications Secretary Martin Andanar said in a press statement.
Andanar issued the statement, after Espinosa recanted all his allegations against de Lima.
In a counter-affidavit filed before the Department of Justice (DOJ) on Friday, Espinosa claimed he was "coerced, pressured, intimidated and seriously threatened" by the police to implicate de Lima.
Espinosa said he had "no other option but to invent stories" for fear of his life and of his family since he was supposedly threatened that he and some family members will "suffer the same fate as his father," Mayor Rolando Espinosa Sr. who was killed inside a jail cell in Albuera, Leyte on Nov. 5, 2016.
In a series of Senate hearings in 2016, Espinosa testified against de Lima, saying the opposition senator was part of the illegal drug trade inside the NBP when she was the Justice secretary under the administration of the late president Benigno "Noynoy" Aquino III.
De Lima, one of President Rodrigo Duterte's staunchest critics, has been in detention since February 2017 for allegedly conspiring to run a drug trafficking ring inside the New Bilibid Prison (NBP) in Muntinlupa City during her stint as Justice secretary.
Citing the statement of the Prosecutor General, Andanar said Espinosa is "not a state witness."
Espinosa has been removed from the Witness Protection Program following various offenses.
He has also been transferred to a secure holding facility of the Bureau of Jail and Management Penology at Camp Bagong Diwa, Quezon City.
He was booted out of the National Bureau of Investigation holding facility after he tried to escape on January 13. (PNA)