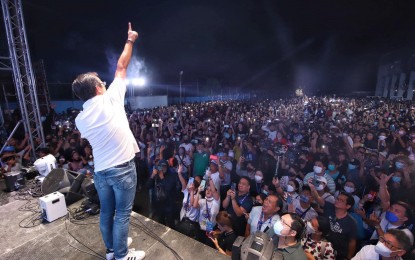 MANILA – Aksyon Demokratiko standard-bearer Francisco "Isko Moreno" Domagoso got a big boost Thursday as large groups of supporters, including from the camp of presidential aspirant Ferdinand "Bongbong" Marcos Jr., have shifted their support to the incumbent Manila mayor.
The event dubbed "The Biggest Switch" took place at the Great Eastern Hotel, Quezon City as over 50 volunteer groups and non-government organizations (NGOs) declared their support for Domagoso.
Leading "The Biggest Switch" were veteran actress Vivian Velez, composer and singer Jimmy Bondoc, and social media influencer and popular vlogger Byron Cristobal alias "Banat By".
Some of the biggest "switchers" are the United Defenders for Democracy and Sovereignty (UDDS), Partido Maharlika (PM), Basta Tayo Sama-sama (BTS), and the National Guardians for Unity and Democracy (NGUD), which claims to have more than a million members.
All in all, the organizations present at the event boast of more than 10 million members nationwide.
UDDS president Marynette Gamboa, a former mayor of Dingras, Ilocos Norte, said they switched their support to Mayor Isko because he is the "most worthy" candidate to be the next president of the country.
"Unang una, si Mayor Isko ang karapat-dapat. Being a mayor, lahat po nung ginawa nya na ipinakita nya sa akin na kanyang plataporma, yung future plans niya for the Philippines, it's all doable. Kaya niya, kaya natin lahat (First of all, Mayor Isko is the most worthy, and having served as mayor himself, he has shown me everything he has done, and including his platform, and his future plans for the Philippines. it's all doable, he can do it, we can do it all)," she added.
The former Ilocos Norte town mayor said she knows the Marcoses very well and she could not accept a Marcos presidency.
"Kapag tayo bumoto sa isang BBM (If we vote for a BBM), we will have the worst government in this country," Gamboa said.
While the 4.5 million-strong UDDS also included groups that initially supported Vice President Leni Robredo and Leody de Guzman, she said.
BTS national president Allen Mojica echoed the sentiments of Gamboa, saying their three million members shifted their support to Domagoso after the Manila mayor took time to explain to leaders of the NGO his concrete plans for the country and how fast he can deliver it.
Additionally, BTS national chairperson Warren Ruiz believes that what Mayor Isko has done in Manila will be done in the whole country.
Partido Maharlika national chairman Willy Recablanca said they shifted their support from Marcos Jr. to Mayor Isko because they saw his desire to help the poor.
Meanwhile, Bishop Mel Llanes of the Philippine Christian Churches Movement (PCCM), said they shifted their support from Senator Manny Pacquiao to Domagoso because the Manila mayor has shown the necessary skills, experience, and most of all, the integrity to lead the country out of its present predicament.
Also among the biggest switchers is vlogger Banat By, who admitted that he was once a big basher of Mayor Isko during his overblown spat with President Rodrigo Duterte, and was once initially being close to the camp of Marcos Jr.
He said his switching to Mayor Isko came about when his group realized the true character of Domagoso and his many accomplishments in Manila.
For those stuck with the BBM-Sara tandem, Cristobal urged them to vote for Mayor Sara Duterte for vice president but vote for Mayor Isko for president.
For his part, Bondoc said his switch to Domagoso took a lot of deep thinking and long prayers.
Bondoc thus urged the Isko faithful not to be intimidated by the bullying tactics employed by the camps of Robredo and Marcos Jr., saying it is now time for them to shout out the call for their chosen candidate. (PNA)